"I'd rather have swept them."
Devin Booker was asked after the Game 6 blowout loss in Dallas if he would've liked to have closed out the series against Dallas on Thursday night rather than a Game 7 on Sunday. Pretty bold comment.
An extra day between games, with no NBA Playoffs to watch, means a slow drip until Sunday night at 5 pm. "It's going to be on my mind. I might get some Call of Duty to free my mind. It's a hot day today might get in the pool. I like getting in the pool on off days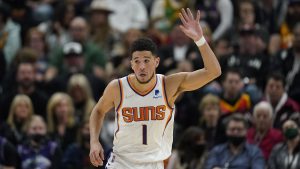 For months I've heard, seen, read, and scrolled through fans/legitimate media/cheerleaders with a credential that believed that Devin Booker is the MVP of the NBA. While he didn't win the vote during the regular season, Sunday night will be his center stage to show(once again) to those who doubted or simply haven't watched him because they live east of the Mississippi River.
Saturday at the Suns' practice, Booker answered about six minutes of questions starting with Game 7
'I'm going to be wired. I think everyone is probably on both sides, sudden death, that's how it's supposed to be, it shouldn't be any other way, we know each other plays, were six games in now, we've been playing each other for a couple of weeks, it's going to come down to executing and playing hard."
Fair or not, if the Suns' season ends on Sunday night, then what good was the regular season? Was it a team simply built to win 60+ games between November and Mid-April without the grit for playoff basketball? How can a team like Dallas, with just one star, have the Suns up against a wall? Very fair questions to ask.
Now conventional wisdom says that Phoenix will win the game and advance on to meet Golden State. The Suns are at home. They are rested. Their stars will come out to play. Booker sounds ready, "I'm sure it will be rowdy in there. It's going to be exciting, a lot of energy. I'm looking forward to it."