by Bruce Cooper
How to fix the Phoenix Suns this offseason. Let's start by ignoring any noise pertaining to Deandre Ayton no longer being a member of the Suns team. You absolutely, positively do not allow a man of his size, talent, and skillset to getaway. With apologies to A'mare Stoudemire, who was a power forward playing center, Ayton is the most talented center in the Suns' 54-year history, and he hasn't even reached his ceiling.
Give Ayton his max contract and pick up the option year on Cam Johnson's contract with the idea of working out an extension with him. Devin Booker's supermax contract is still two years away, which will coincide with Chris Paul's contract coming off the books. The Suns' young core of Booker, Ayton, Johnson, and Mikal Bridges is what the front office needs to keep together and build around.
With that said, let's get to work: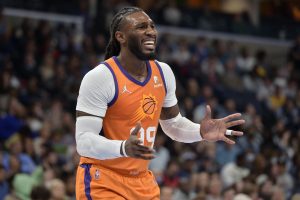 Trade Jae Crowder ($10.2 million expiring contract) along with 2024 and 2026 first-round draft picks to the Utah Jazz for Jordan Clarkson ($13.3/$14.2 million over the next two years).
Trade Dario Saric ($9.2 million expiring contract), Torey Craig ($5.1 million expiring contract), and Cam Payne ($6.5/$6 million over next two years) to the Houston Rockets for Eric Gordon ($19.5/$20.9 million over next two years).
Gordon and Clarkson were able to create their own shots off the dribble and knock down 3-point shots. A Suns significant need.
Renounce rights to Aaron Holiday which frees up $12 million cap hold on the salary cap.
Re-sign JaVale McGee to a 2-year $20 million contract.
Sign power forward Montrezl Harrell to the $6.4 million mid-level exception.
Re-sign forward Ish Wainright (2-years $5 million) and guard Iffe Lundberg (2-years $4 million).
Sign undrafted rookie, G-League or Veteran minimum center.
Suns 2022-23 roster
Starters
G Chris Paul
G Devin Booker
F Mikal Bridges
F Cam Johnson
C Deandre Ayton
Bench
G Eric Gordon
G Jordan Clarkson
F Landry Shamet
F Montrezl Harrell
C JaVale McGee
G Iffe Lundberg
F Ish Wainright
C (TBD)