The Arizona State University men's golf team is on its quest for a third NCAA title in program history (1990, 1996).
The Suns Devils enter as the No. 4 seed and are hosting the championships at Grayhawk Golf Club in Scottsdale. Head coach Matt Thurmond knows his team is ready to play its best.
"We played our best tournament last week at regionals," Thurmond said. "We just have to play loose and not overthink any part of the tournament. If we play our best, we'll be in the mix at the end."
One way this team stays loose is by bowling in a match play format. Thurmond says match play happened organically, and is preparing them for match play in this tournament. In 2021 ASU made it to match play, ultimately finishing tied for third.
For @sundevilmgolf, match play bowling has been happening all year.

Now they hope to make it to match play (and beyond) at the NCAA Championships this weekend ⛳️

I caught up with @MattThurmond (who has won a few bowling matchups btw). @Sports360AZ pic.twitter.com/q5O66Vtj7G

— Jordan Spurgeon (@spurge_) May 26, 2022
That was a learning experience for all of the returning Sun Devils, including Mason Anderson. The Hamilton high school alum is wrapping up his collegiate career after opting to stay for his fifth year of eligibility.
"It's sad to know this is the end," Anderson said. "But I'm excited and want to go out on top. I'll have a lot of friends and family in attendance, which is pretty cool."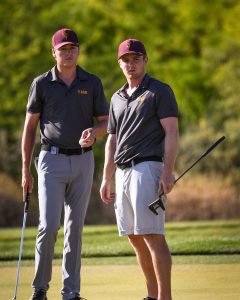 The Sun Devils tee off at 11:52 a.m. on Friday. Joining them for the first two days in the pairing are North Carolina and defending NCAA champion Pepperdine.