Based off big boards and mock drafts from sites like Pro Football Focus and Sports Illustrated, these are the consensus top five quarterbacks going into the 2022 NFL Draft (in no specific order):
Malik Willis (Liberty), Kenny Pickett (Pitt), Matt Corral (Ole Miss), Desmond Ridder (Cincinnati), & Sam Howell (UNC).
As the draft approaches, Perry High School alum and Iowa State QB, Brock Purdy, is hoping a team gives him a chance to show what he can do.
"He's got the elements you look for that I think are comparable with some of those other guys," NFL Network analyst Marc Ross said. "He's got a lot of moxie. The guy knows how to play football and he's got confidence and he's got vision and he's got some playmaking ability about him."
So why isn't he getting more love nationally?
"Brock is someone who's underrated," The Draft Network's Crissy Froyd said. "Part of that has to do with the questionable decision-making that he did on the field at Iowa State at times. He did hit some high points. He has the best or some of the best lower body mechanics in this draft."
In his final season with the Cyclones, Purdy averaged 245 passing yards per game to go along with 19 touchdowns and 8 interceptions while completing 72% of his throws.
All within an offense that focused more on the run game.
"This notion that he can't throw the deep ball…that comes from the fact that in the Iowa State offense, you have someone like Breece Hall who was the star running back, first or second rounder, so the offensive scheme is going to be tailored to him," Froyd said. "In a scheme like that, you don't need a quarterback to throw a lot of deep passes."
When he did have his chances to throw downfield, they paid off.
His longest collegiate throws include an 84-yarder, an 83-yarder, and most recently a 68-yard toss.
"He's shown it on film, he showed it on pro day, he showed it at the combine that he can throw the deep ball," Froyd said.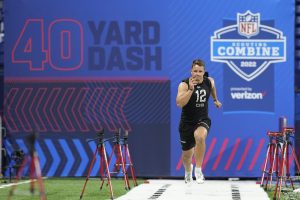 As far as intangibles, Purdy is a proven leader who has consistently put the team's success ahead of his personal aspirations.
"A lot of resiliency," Froyd said. "He's a quarterback who's also gotten a lot of flack over the course of his career. He's bounced back from that well and I think he's brought a strong level of leadership to this team that has brought Iowa State to new heights. He just doesn't get enough credit for doing so."
Projections have Purdy going anywhere from 6th round to final pick of the draft.
"It's gonna come down to a team giving him a shot in camp," Froyd said.
If and when his name does get called, he'll be ready to prove doubters wrong.
The 2022 NFL Draft kicks off on April 28th at 6:00pm.