Story by Bruce Cooper
Bold and fearless moves by a number of general managers across the NFL have made this, perhaps, the most exciting and interesting offseason in league history. Unfortunately, for Arizona Cardinals fans Steve Keim was not among them. Instead, Keim has played it safe and conservative. No big trades or major outside free agent signings. He has spent the bulk of his time and money re-signing team free agents, most of which were important and needed.
With that said a bold move or two would be ideal during this week's NFL draft. Trading for an additional first-round pick would suffice. This move would allow the Cardinals to find their edge rusher and wide receiver in the opening round while setting up the rest of their draft.
Trading up into the middle part (or so) of the first round the Cardinals should be able to find either receiver Chris Olave or Jahan Dotson still on the board. Either one would be a great fit on the Cardinals roster.
Let's get you to my final Cards draft 3.0:
Round Player
1 Chris Olave—Wide Receiver—Ohio St. (acquired in trade up)—Speed, hands, route running. Can step in immediately and impact the Cardinals offense.
1 Arnold Ebiketie – Edge Rusher—Penn St.—Has the ability to annually lead the Cardinals in sacks. Also active and stout in the running game.
2 Darian Kinnard—Offensive Lineman—Kentucky—A massive man at 6'5, 345. Strong and powerful. Future starting right guard.
3 Rachaad White—Running Back—Arizona St.—Great lateral quickness. Best receiving back in the draft. Replaces Chase Edmonds.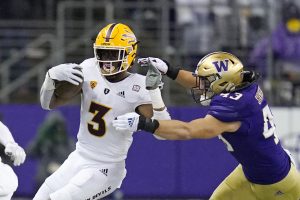 4 No pick (Marco Wilson trade)
5 No pick (Zach Ertz trade)
6 D.J. Davidson—Defensive Tackle—Arizona St.—Brings power and pass rush ability to the middle of the line. Versatile and athletic enough to play 5-technique.
Jaylen Watson—Cornerback—Washington St.—(supplemental pick) Tall corner who plays with physicality. Special teams standout.
Jeremiah Moon—Outside Linebacker—Florida—6"5, 250. Active pass rusher with good size and nice length.
7 Mario Goodrich—Cornerback—Clemson—(supplemental pick) 6'1, 190. Good athlete, good vision and willing tackler.
7 Britain Covey—Wide Receiver—Utah—(Supplemental pick) 5'8, 170. Small but plays with grit and heart. Excellent return specialist.