Story by Jude Binkley
March Madness, College Football Playoff, College World Series, the list goes on. Every collegiate sport has its national championship – a competition at the highest level that every athlete aspires to compete in.
And so does collegiate esports.
College League of Legends (CLoL) is the collegiate circuit for League of Legends, the popular multiplayer online battle arena game. The game, which was released in 2009, has over 100 million monthly players worldwide.
Like traditional sports, CLoL has its own conferences and a regular-season where universities from around the country compete to play in the League of Legends College Championship.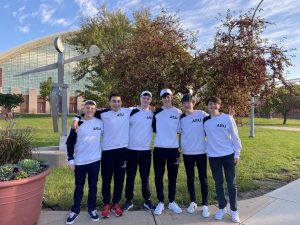 Arizona State esports is currently competing in the 32-team national tournament.
"It's a pretty intense environment to be in. It's like being in March Madness but for League of Legends," ASU League of Legends head coach Dylan "Sherv" Shervill said.
Shervill, a former college football player who coaches the team from Canada, joined the organization as an analyst last year before being named head coach at the start of this season. He scouts enemy strategies with external analysts, watches game tape with the team, and works to improve players' gameplay through scrimmages.
"I translated what I did in football…so for me, my entire game was based off preparation and preparing for my opponent," Shervill said. "Trying to know what they wanted to do before they even did it. So if I'm able to convey that to the players in as minimal words as possible, create a presentation or document that allows me to convey weaknesses about the enemy to our players…they can internalize it. And then the biggest step is actually being able to recognize it when they're playing the game."
A given week for the team includes three to five hours of practice between three to four days a week. On a separate day, the team holds a strategy meeting and also meets with Dr. Ryan Terao, a clinical psychologist who works with esports programs to build team chemistry.
Unlike other top programs, Arizona State doesn't have esports facilities or offer scholarships. Players compete from their dorms and apartments, but that hasn't stopped the team from finding success.
The Sun Devils repeated as CLoL Western Conference champions in a 3-2 series win over UC Irvine last month. The conference title gave them a top seed in Group A of the College Championship. "For us to walk in, especially when they beat us in the regular season pretty handedly…it felt pretty amazing," Shervill said. "Especially when it goes to a five-game series and our game five was such a decisive win. It meant a lot, especially for me to get my first championship as a coach."
The Sun Devils had their first matchup in the College Championship against NAU last Sunday. ASU took the series in a pair of decisive wins to advance to the round of 16. "For us to play as clean as we did and to play the way we did, I think it was awesome," Shervill said. "We were focused and excited to play. Excited to get our nationals run on the road."
ASU jungler Sean "Firinz" Innes put up impressive 4/0/4 and 4/0/11 stats for the series. Before the season started, he switched positions twice before finding success in the jungle position – a role that enables and sets up teammates – like the point guard of the squad.
"This is our ultimate tournament of the year," Innes said. "This is what we've been practicing the entire year for. This is where we get to go up against a bunch of other really talented schools and get to show the efforts of all of our hard work."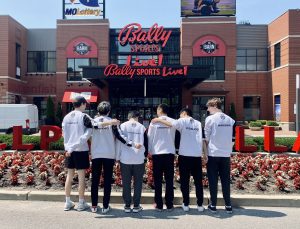 The game was broadcast on the LCS Academy channel on Twitch.tv, the Amazon-owned streaming service. The series averaged over five thousand live viewers.
The increased exposure from the larger audience helps get the team in front of more fans and scouts. ASU League of Legends has had past players sign contracts with LCS Academy teams – the minor league of the North American professional circuit.
"I absolutely love the attention. I love it when people watch our games," Innes said. "People take time out of their day to come watch us play. Like we're just five random college students who sit in front of a computer screen too much, and people enjoy watching us. That's awesome."
The top eight teams of the tournament will be flown out to compete in person at the LCS Studio in Los Angeles. Riot Games will be providing flights, accommodations, and meals as teams play out the final three rounds of the tournament. The matches may also be played in front of a live audience.
To book their trip to LA, ASU will have to beat Converse University in the round of 16 first. "We feel pretty good based off our limited scouting that we were able to do versus them, as well as our practices," Shervill said. "We're happy about the results we've been getting so far, we're happy to continue getting that success."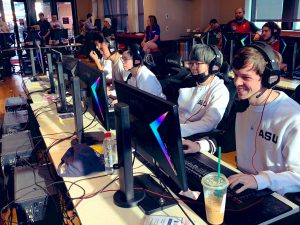 By having a national championship like traditional sports, esports programs have something to point toward to show the rising interest in collegiate esports. Teams also hope that the increase in exposure leads to universities taking esports more seriously and providing more support for programs.
"I think overall, the tournament adds more validity to collegiate esports," Shervill said. "Where it's being able to be taken seriously by administration, who quite frankly might not know that esports even exist. Being able to say, 'Hey, we've placed this well at a national tournament and we've done everything from our standpoint to give the school exposure.'"
ASU League of Legends' match against Converse University takes place Saturday at 7 p.m. The series can be streamed through Twitch.tv.