Story by Jude Binkley

"We're not chasing a win streak. We're chasing greatness."
Those were the words of No. 10 Arizona State softball's head coach Trisha Ford after the team's sweep of Utah extended their win streak to 20 games.
Their win streak is now the longest in the county after Oklahoma dropped a game over the weekend. ASU sits on top of the Pac-12 with a 12-0 record in conference play.
Ford said the most exciting part of the team's run has been their fight. This was on full display in their series against Utah, which saw the Sun Devils battle back from 2 and 3-run deficits.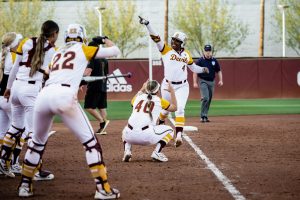 "We're always a team that fights, but we've had some games where there's been moments where we haven't shown our best, and we've found out a way. That's what great teams do," Ford said. "You're gonna have ups and downs, but can you find a way to figure it out and get a W at the end of the day."
ASU leads the Pac-12 in runs and homers, despite being tied for the fewest conference games played. They also rank at the top of the conference in batting average and are second in the nation in slugging percentage.
The team swept two Top-15 teams in Arizona (where Marissa Schuld threw a perfect game against her former team) and Oregon. All but one of their Pac-12 opponents have been ranked at some point this season.
Their record run came after a turbulent start to the year. The Sun Devils dropped five nonconference games in the opening month of the season and fell out of the standings at one point.
"I just think, you know, reps and games," Ford said. "I think we were trying to figure out who we are. We had lost a good portion of our offense…some really cornerstone kind of players. And so I think it was trying to figure out who was going to burden the load. And I think what this team has figured out is not one person, or two people have to take that load. They're all kind of bringing their own piece to the table."
The youth on the Sun Devil's roster has been highlighted by freshman first baseman Cydney Sanders.
Sanders, who committed to ASU in eighth grade, leads "Home Run U" with 14 dingers. Her 47 RBIs are the best on the team and second in the Pac-12. Earlier this week, she was named to the list of Top 25 Finalists of the 2022 USA Softball Collegiate Player of the Year, alongside teammate Yanni Acuña.
"We knew she was going to be pretty special in the box, but you don't really know until they show up on campus and go through practice," Ford said. "And what's gonna sound crazy is there's so much room for growth for her. Like there's still more in her tank."
Ford praises the San Marcos native most for her mental edge. She describes Sanders as a "professional hitter" who has a non-emotional approach to the game and an understanding of her hitting and which pitches to attack.
"If I'm not doing good in a game, I personally like to flush it and do my part on defense," Sanders said. "If I'm not doing good with hitting, I want to be the best I can for my team on defense…It's a new day every day. It's like picking up from the start every day."
Sanders says that teammates Alynah Torres and Yanni Acuña have taken her under their wings, teaching her not to stress about fluctuations in hitting. They also communicate during games and have been able to step up for each other on the field.
"I'm not really thinking too much about numbers or stats or homeruns. I'm just here to play and have fun with this team, and they're making me very comfortable," Sanders said. "And being in the third spot is really hard as a freshman. So I feel like my team is making me feel very comfortable and they have my back, vice-versa. It's really fun. I mean, I don't really think I'd be going off like this, but it's cool that I am."
Just like how Sanders isn't placing all her focus on her stats, the win streak is a side thought for Ford, who's keeping her eyes on the remainder of the season.
"It only matters what happens at the end of the year," Ford said. "So obviously this was great. It's an honor and something that the players have worked extremely hard for. But we got to get to the fun stuff."
The fun stuff would be a run at Oklahoma City in June. But before that, the Sun Devils have one more month of Pac-12 play – including a series against No. 4 UCLA in May.
On deck for the team is a series on the road against Stanford, where they'll try to extend their best conference start in program history.