A day after their victory in Vegas, the 2022 Pac-12 Champion Wildcats earned themselves a number one seed in the NCAA Tournament.
"It's a great honor to be a one-seed," UArizona head coach Tommy Lloyd said. "The guys are very deserving. They've had an incredible year and we're excited going forward."
At 31-3, UA has proven itself as one of the best squads in the country.
But there's a reason they call this time of year March Madness.
"There's a group of teams that have maybe separated themselves," Lloyd said. "Physically, they look the part. I think we're in that group. There is a lot of parity. You look at all these games, they're gonna be tough. There are no cakewalks. That's why I think last week was so important for us to have those three tough games that were all a little bit different but for us to find a way."
They'll reference their Pac-12 Tournament experience right away as the Wildcats prepare for the first round.
"You handle it the same way you would've handled your Stanford, ASU situation," Lloyd said. "You prepare for both teams and you even get a day in between so it won't be anything crazy. The nice thing sometimes is rather than start game planning for a specific opponent, maybe it gives us a day or two to focus on us. Just focus on Arizona Basketball."
UArizona will see either Wright State or Bryant in the first round after they face off in the play-in.
The Raiders boast a dynamic duo of Tanner Holden and Grant Basile.
Combined, they average nearly 40 points per game to go along with 16 boards per contest.
On the other hand, the Bulldogs are led by Peter Kiss and Charles Pride, who combine for an insane clip of 43 points a game on 46% shooting.
"Familiar with them but obviously got a lot to learn in the next 24 to 48 hours," Lloyd said.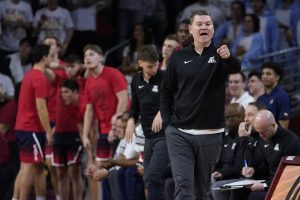 The time spent studying their potential opponents will also be used for well-deserved rest.
"I love where this team's at mentally," Lloyd said. "I think physically, we're pretty fine. Obviously, Kerr's ankle's the only significant issue…I think there's a real chance he'll play."
Whether or not Kriisa will be good to go, Lloyd knows his team's depth speaks for itself.
"I'm on Dalen and Pelle just to be great basketball players and I love the fact they have basketball IQ's, they're creative thinkers, and they want the pass because that helps our team so we have options," Lloyd said.
Lloyd sat at the podium with a prideful smile, that of a coach who knows his guys are ready for the long road ahead.
"I love this time of year," Lloyd said. "It's a great opportunity for us to continue to make a mark. We're gonna attack it. We're not defending anything. We're going for it. We're gonna come out and play with a bunch of energy and hopefully a bunch of swag and have some fun."
After the Wildcats find out who they play on Wednesday, the fun officially tips off on Friday in San Diego at 4:27 p.m.