"If you could choose between being a commercial pilot or a fighter jet pilot, which one would you choose?" That was one of the many questions NFL teams threw at former Perry high school star quarterback Brock Purdy during the recent NFL Combine in Indianapolis. Being in a job interview for all thirty-two NFL teams was a rush. "It gave me goosebumps," he told me over Zoom.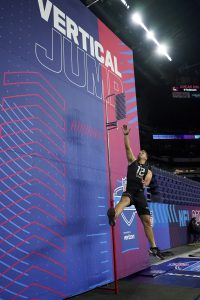 I asked him to drill down on the whole event and he went into the 40-yard dash. "It's one of the biggest events, and we're(all of the quarterbacks) standing on the starting line as the coach is explaining the rules. I was looking around like "man here's all the cameras lined up. Here are all of the coaches and here's the lane. Man, it's a reality, it's really cool". Purdy's official 40 time was 4.84. He won't run it again at Iowa State Pro-Day this week. Purdy will be with his family in Queen Creek for NFL Draft weekend starting on April 28th. Here's the link to our entire interview
Live From Las Vegas, Brock Purdy Combine Talk
Arizona State basketball may have already landed a top player for the 2022-23 season just a couple of days removed from the Pac-12 Tourney in Vegas.
At ASU ofc https://t.co/IUw9o0Lldu

— Marcus Bagley (@bagleymarcus23) March 12, 2022
Bagley's knee kept him off the floor for the Sun Devils this past year. When healthy, he's a can't miss talent. However, just because he tweets something out at the end of the season, doesn't mean much today. Please use Jayden Daniels as examples A, B, and C and how a player can change their tune at a moment's notice. Just because it's on social media in March, doesn't mean Bagley will be in maroon and gold next season.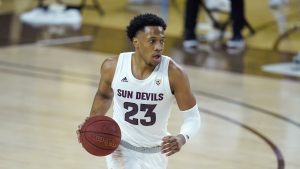 For those defending Arizona State over the football program still having Herm Edwards in place as head coach, you might want to look up what LSU did with their basketball coach Will Wade on Saturday. Terminated with cause…
Ray Anderson has retained a search firm for his next Women's basketball head coach. What I've seen out of Ray is he likes to swing big and make buzz. Herm Edwards, Bobby Hurley, Willie Bloomquist. IF Arizona State had the blueprints for a new basketball arena in place and on display I think that the job becomes very attractive. Being stuck in the same building that was shut down for a Women's game just a few months back because of a power outage isn't going to help one in the arms race of facilities…
No one should be surprised when Grand Canyon University head coach Bryce Drew's name gets thrown out for big jobs this coming head coaching cycle. He's done.a very good job at GCU in two seasons and the allure of him to bigger conferences will always be part of the discussion.
Chandler Jones to Denver on the first day of NFL free agency is the agent buzz…
Remember the names Corbin Carroll, Alek Thomas, and Drey Jamison. The "Baby 'Backs" of 2022. Look, no one is thinking that our hometown baseball team is going to make noise in the National League West. But what I am looking to is the future. I don't need Justin Upton rushed to the big leagues and having "Uptown" shoved down our throats in the interest of trying to create buzz around a bunch of kids. What I am suggesting is the Diamondbacks should just come out and call it what it is for 2022. It's a total rebuild. Most of us are good with knowing that the team isn't going to compete for a playoff spot, and we're going to see some kids play almost every day…
Chris Paul will be a terrific head coach when his NBA playing days are done. It will be interesting to see how many current teammates Paul pursues when that day comes. A pre-season survey of GMs across the League had Paul as the first name under the category of "Current Player who will be an NBA Head Coach". When the time comes for players like Booker, Bridges, Cam Johnson, Ayton, Payne, and other current teammates to go through free agency, you can't tell me that Paul won't have at least a puncher's chance at pulling them out of Phoenix. Employee relations are as critical as ever in the workforce, including pro sports…
NASCAR is in town. I'll be at the track on Sunday. Just so we are clear, no one in the Arizona media scene works harder on the "Sport of Speed" than our own Devon Henry. Go look at the front page of the site and the stories he's put up this week. The man is a machine…