Story by Jude Binkley
After years of deep runs into the USL Championship Playoffs and a conference quarterfinals exit last year, Phoenix Rising FC is coming into the 2022 season with high expectations.
According to head coach Rich Schantz, one of the reasons for the club's sustained success is the fact that the players aren't just looking for an opportunity to move up to the next level, but have bought into building a winning culture.
"It is not easy to do what this team has done for three or four years," Schantz said. "Everyone has to be here with the idea that they're trying to win trophies and make the club great. And the way I tell our players is if we win and we're consistently performing at a high level, you will get a chance at the next level. But I'll tell you, when MLS teams are looking at players in the USL, I guarantee you Phoenix Rising is one of the first clubs they look at."
The tifo that rose above the south end of Wild Horse Pass during Rising's home opener on Saturday read "Remember who you are. Play with honor." Schantz said there couldn't have been a better statement when the team walked on the field.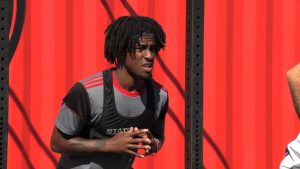 It served as a reminder that there's already history for the club, and a new chapter that opened this weekend.
Phoenix Rising started the season in front of an opening-day record crowd at Wild Horse Pass against former head coach Frank Yallop and Monterey Bay FC. Phoenix ran up a 4-0 score before halftime and coasted to a 4-2 win.
"When we played with a sense of urgency and had pressing moments that it created good chances for us," Schantz said. "I think at 4-0 at halftime that human nature kind of crept in a little bit. We kind of lacked some sharpness in the second half."
Schantz said the team is at its best when they play aggressively and with tenacity. Rising's goal is to work on situational soccer and improve on making the switch to sit back and counter when they take a lead.
Forward Greg Hurst made his debut for Phoenix on Saturday, recording a goal and assist. Hurst was named to the USL Championship Team of the Week alongside midfielder Aodhan Quinn, who chipped in a goal of his own. Midfielder Arturo Rodriguez earned an honorable mention.
Rodriguez is the creative attacker in the Rising's balanced midfield trio, and was challenged by Schantz to score more goals this season. After spending last year in the gym getting stronger, he's able to push opponents off the ball and win possession in higher positions.
"This kid will do it all," Schantz said. "I think Arturo is one of the better attacking midfielders in the USL. Not only because of attacking, but because of how much of the other things I require him to do as well. And I think that's what modern-day football is."
Phoenix will be traveling to Sin City this weekend to take on Las Vegas Lights FC, who dropped their opener 2-0 to New Mexico United. Known for its loud and energetic environment, Schantz is keeping his focus directed on the team when they step foot on the Cashman Field pitch.
"We spend more time worrying about ourselves than we do about our opposition," Schantz said. "I'm not the kind of coach that just gambles on the opponent's weaknesses and trying to find their weaknesses in order for us to succeed. We play our style of football."
Phoenix Rising takes on Las Vegas FC Saturday at 7 p.m. on ESPN+.