After a successful robot tour took the NASCAR Xfinity garage by storm last November at Phoenix Raceway, 28-year-old NASCAR Xfinity Series driver, Josh Williams, will team up with Phoenix Children's in a larger capacity.
Adorned front and center upon the hood of Williams' B.J. McLeod Racing Chevy Camaro, will be the Phoenix Children's logo along with pictures from last year's memorable virtual tour. The sponsorship space on the hood is being given free of charge with a donation from Alloy Employer Services, a primary sponsor for Williams and B.J. McLeod Motorsports.
"We are thrilled to have teamed up with Josh Williams and the No. 78 car as part of the March NASCAR Xfinity Series race at Phoenix Raceway," said Tim Harrison, Vice President, Corporate Partnerships & Special Events at Phoenix Children's. "The last few years have shown us the value of connection.
"Social distancing and quarantine left us longing to interact with others. Unfortunately, children who are hospitalized are experiencing isolation and understand that sense of missing out on things happening outside of their hospital room, so having Josh and the crew bring the NASCAR experience to our patients is incredibly exciting. Josh and his crew continue to show what a winning team they are both on and off the track and we are so grateful for their support."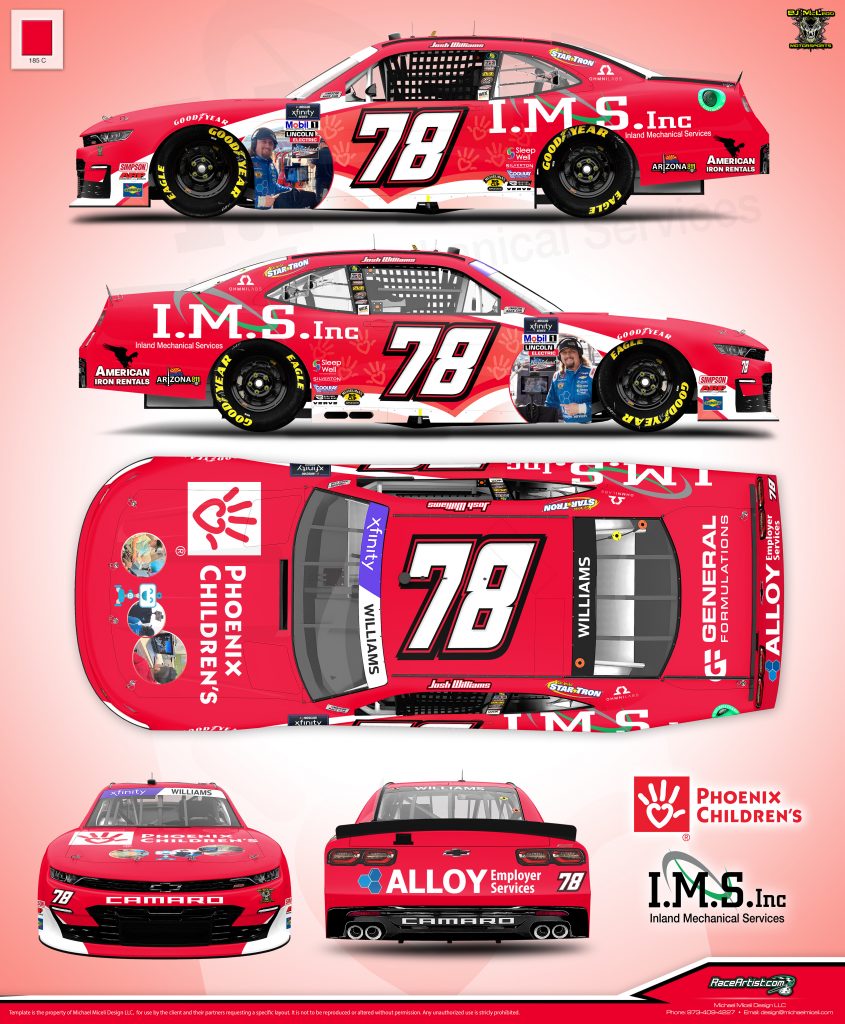 The tour was made possible by an Ohmni robot, a machine that allowed children at the hospital to see the garage with a camera while remotely controlling the vehicle to navigate the garage. In 2022, Williams is now flipping the script on the children. On Thursday, the Florida native conducted his visit at Phoenix Children's virtually by using the robot to wander the halls of the hospital remotely.
"Phoenix Children's Hospital has been a longtime supporter of OhmniLabs and continues to find new, meaningful ways to immerse kids in unique experiences using our telepresence robots," said Dr. Thuc Vu, co-founder and CEO of OhmniLabs. "We are honored that Josh Williams will use our Ohmni Robots to get Phoenix Children's patients out of the hospital and onto the racetrack at the upcoming NASCAR Xfinity Series event in Phoenix. We appreciate the opportunity that Josh is giving these kids to use our technology in such an exhilarating setting, making memories they will never forget."
Two of the Ohmni robots will navigate their way through Phoenix Raceway this Friday and Saturday in the Xfinity Series garage. Patients will again remotely drive the robots through the garage on a tour beginning at 1:00 p.m. MST.
👀 Exciting partnership this weekend for @Josh6williams , @PhxChildrens and @OhmniLabs at @phoenixraceway this Saturday for the #UnitedRentals200 👊🏼#NASCAR #NASCARXfinitySeries #SkullRacing #PhoenixRaceway pic.twitter.com/nE19Hamwfn

— BJ McLeod Motorsports (@TeamBJMcLeod) March 10, 2022
Williams made the move to B.J. McLeod Motorsports this offseason and has totaled three career top-20s at Phoenix Raceway since 2019. This is Williams' fourth full-time season in the Xfinity Series.
Since 2015, Williams had made over 200 hospital visits to brighten the days of children around the nation during his endeavors to advance to the top level of NASCAR. The Port Charlotte, FL native makes nearly 30 hospital visits over the course of the 33-race season.
"Last year, having the opportunity to visit the patients through the Ohmni robotics technology was definitely a first time for us in all the years of the children's hospital tour," Williams said. "Now fast forward a few months and having the honor to represent Phoenix Children's Hospital, Ohmni Labs, Alloy Employer Services, and educate more people about the technology, is something I can get behind and look forward to having a strong race for them all.
"It's all about reaching people and over the last few years technology has become a major part of that. Hopefully, my fellow drivers and crew members will see us cruising the garage and stop and say hello as well."
During NASCAR Championship Weekend in November at @phoenixraceway, @Josh6williams capped off his annual hospital tour.

He wasn't able to visit @PhxChildrens due to COVID-19, so he brought Phoenix Children's to the race track, virtually.

FULL VIDEO▶️https://t.co/fgmeGpPLJ1 pic.twitter.com/bQf7E2sUDn

— Devon Henry (@devonhenry77) March 8, 2022
The Xfinity Series headlines Saturday's action at Phoenix Raceway with the United Rentals 200. After driving around the garage virtually in November, former Phoenix Children's patient, Paul, will make the trip to Phoenix Raceway along with his family to experience this weekend's action in person.
"This is such an innovative and thoughtful way to connect Phoenix Raceway with children who cannot join us in person," said Phoenix Raceway President, Julie Giese. "We're grateful for Josh and Phoenix Children's Hospital to provide this wonderful opportunity. Phoenix Children's is a cherished partner of Arizona Accelerator Charities and we're proud to be associated with this fantastic initiative."
Qualifying for the United Rentals 200 begins at 10:00 a.m. MST. The green flag drops Saturday afternoon at 2:30 p.m. MST on FS1.
To my new friends at the @SunriseHosp, the pleasure was all mine. 💛

Today brought a whole new meaning to tradin' paint! 🖐 pic.twitter.com/oBb7Q8XHUR

— Josh Williams (@Josh6williams) March 4, 2022