Let's face it: We have no idea what we're doing when it comes to picking brackets.
You can pour over the stats and analytics and see what makes sense on paper, but the madness of March means stuff is going to get weird.
If Wednesday's play-in game between Notre Dame and Rutgers is any indication of how wild the rest of the bracket could be, buckle up folks.
So that's why since 2016, I've gone to my dog Roxy to help me predict the bracket. Roxy is a golden retriever who has a mohawk and will post up next to you for hours if you keep the scratches coming. Despite getting close to double-digits age-wise in the next couple years, she still has a lot of puppy in her.
Most people think their dog is the best, but frankly they're all playing for second.
To Roxy, ball is life. Toy is life. She is obsessed. My parents once had to put her favorite toy in a ziploc because she could smell it in the laundry room and almost took down a full shelf trying to get to it.
You have a toy and are willing to throw it, she won't let you know she's getting tired. That applies double if she's near a swimming pool.
So we take a few toys, one is marked "the favorite" and the other "the underdog," and toss them out in the yard. Whichever Roxy gets to first is her prediction. An important distinction: We make the prediction off the FIRST toy she grabs. Roxy is very much a "grass is always greener" type of dog when it comes to toys.
If she has one and sees another, she's going after it. The original toy is rolling from her dropping it? Now she's interested in that one again. She's cute, but never claimed to be the smartest.
Anyway, we've been doing this since 2016, and here is some of her handywork:
My completed bracket chosen by my dog. No surprises here, she is a huge fan of Tom Crean. #RoxyMo pic.twitter.com/df9tzEc7dT

— Jordan Hamm (@JordyHamm) March 17, 2016
My golden retriever Roxy picked a bracket. One toy represented the favorite, one toy represented the underdog, and we played an extended game of fetch. Of course she had UMBC go to the Sweet 16…. pic.twitter.com/Np25E0P3Lv

— Jordan Hamm (@JordyHamm) March 15, 2018
Roxy picked her bracket yesterday! Threw two balls out for her. If she got the closer ball, it was the favorite. Longer ball meant upset. She has Virginia winning it after (correctly) picking them to lose to 16-seeded UMBC a few years back. Retrievers have to stick together… pic.twitter.com/HrMpOSuhw1

— Jordan Hamm (@JordyHamm) March 18, 2021
Her claim to fame was calling the No. 16 UMBC upset over No. 1 Virginia – the first time a top seed did not make it to the second round. Looking back it was no surprise; UMBC is the retrievers. Dogs have to stick together.
The moment (Wednesday) my retriever became a bracket expert. ROXY AND UMBC ARE ALL GOOD DOGS. pic.twitter.com/7H9bYcjQ2C

— Jordan Hamm (@JordyHamm) March 17, 2018
So this year, we had two donut toys. If she grabbed the blue donut, the favorite advanced. If the chocolate donut was more her speed, the underdog won. This isn't her first rodeo, so we took quite a few breaks throughout the afternoon, but here's what she predicts:
First Round – Round of 32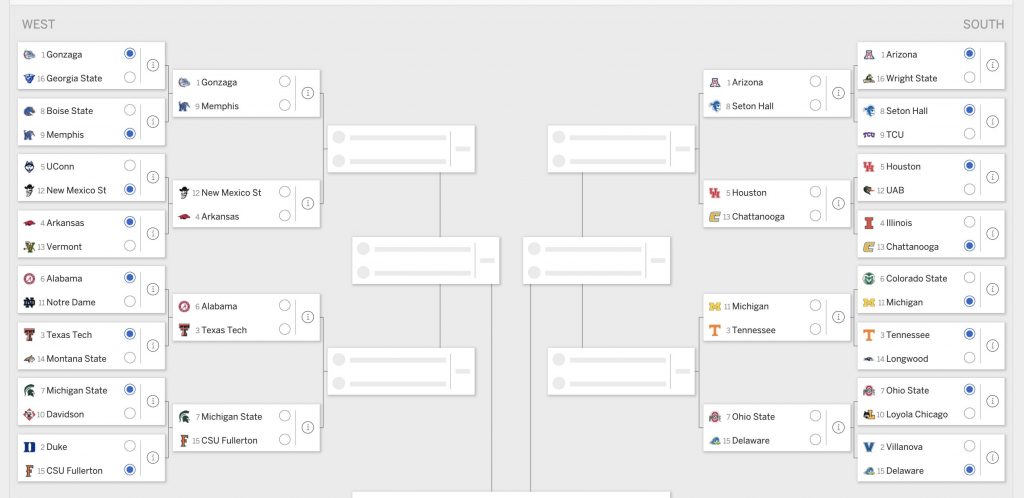 Roxy is at it again with picking No. 16 Texas Southern over Kansas. Pick a 16-seed over a top seed has a microscopic success rate, but shooters shoot. And Roxy is a shooter. The other notable upset is Cal State Fullerton ending Mike Krzyzewski's career in the first round. It could have been a gloriously poetic matchup in the second round with Duke and Michigan State going head to head, but Roxy only gets sentimental when it comes to chew toys.
Round of 32 – Sweet 16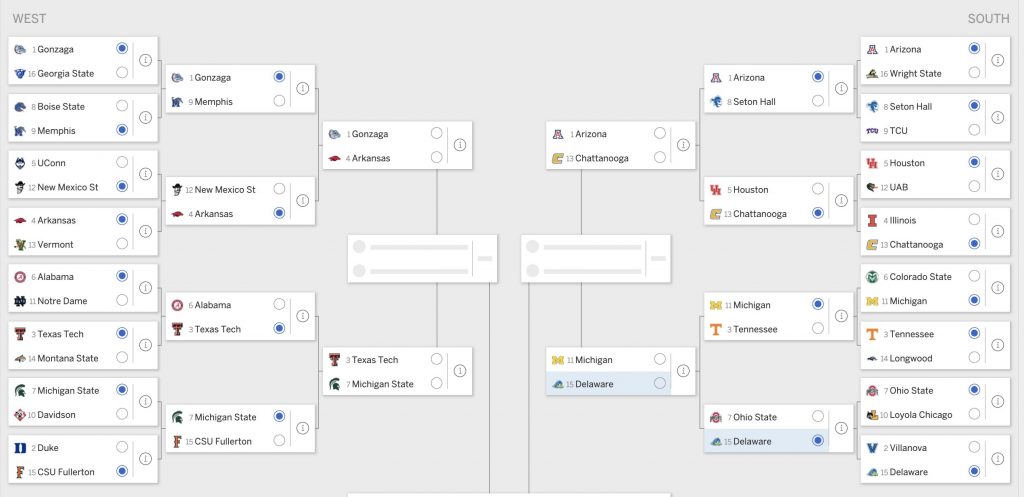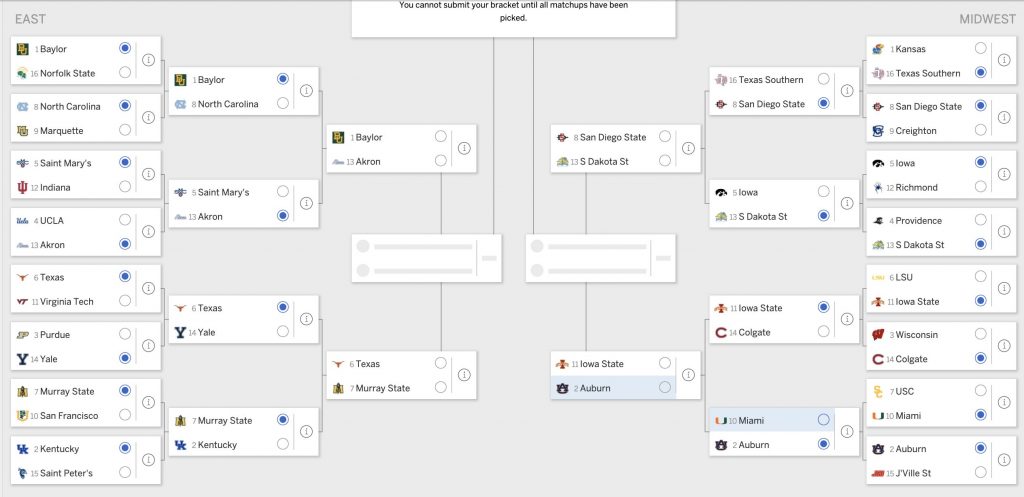 Roxy goes pretty chalk in the West region. I don't know if that time of day made the blue donut look like a more vibrant shade of gray in her dog eyes than the brown donut, but – like college basketball – her picks can be unpredictable. As it stands right now, three No. 1 seeds are still alive, but just one No. 2 team remains in the field.
Sweet 16 – Elite 8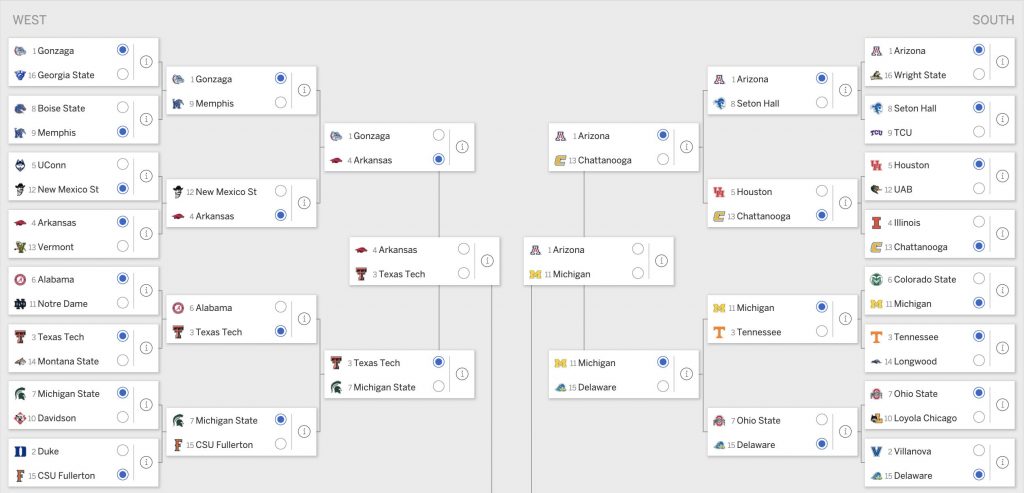 Arkansas and Akron are the giant slayers in this round, and Michigan has a pretty clear path thanks to Delaware taking out some blue-blood programs as well, only to be on the receiving end of a Wolverine attack.
Elite 8 – Final Four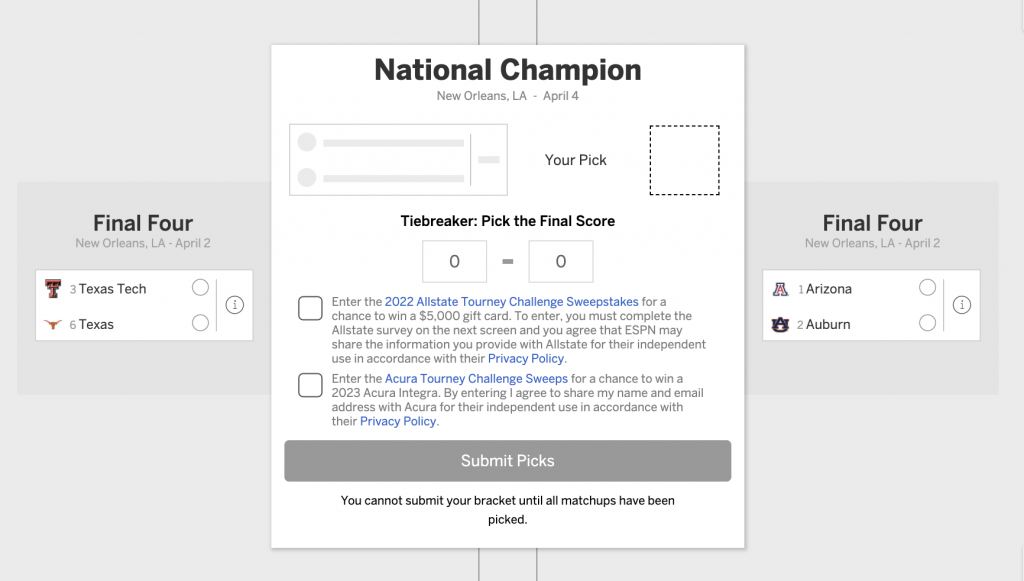 The state of Texas, a hometown team and Auburn. Roxy has had some WILD Final Fours over the years, but this is pretty…normal?
Final Four to Champ Game Winner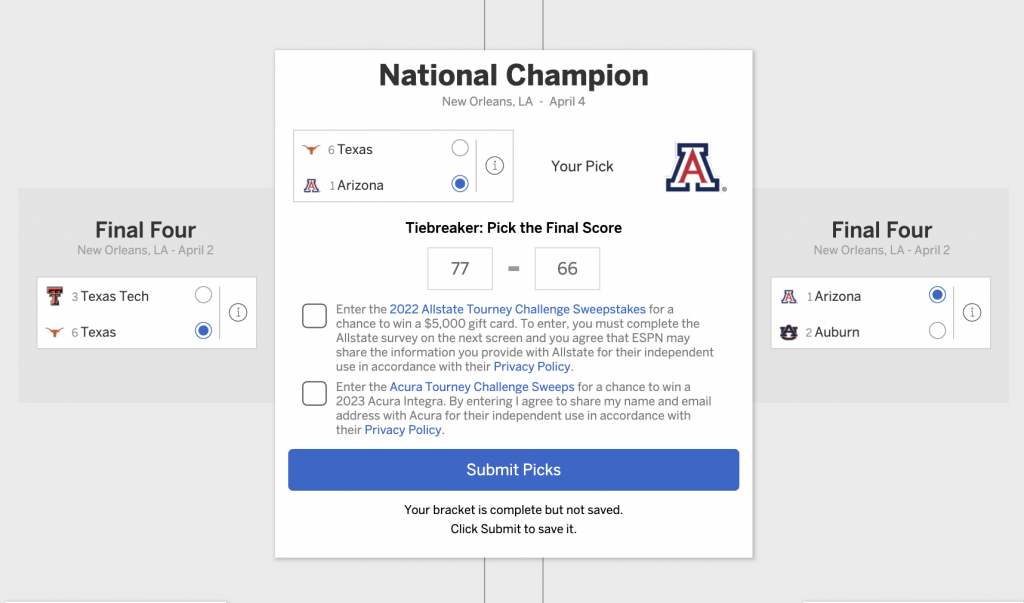 There you have it.
Roxy went with the hometown (kind of) team. Arizona has been a popular pick from the top pundits in college basketball, and the Wildcats get a major stamp of approval from the top college canine commentator.
And for anyone who thinks it's a little too convenient that Roxy went chalk with an Arizona team, here's video of her picks from the Elite Eight on.
They say all dogs go to heaven, and it sounds like the 'Cats are going to title town.