Story by Sam Stern
The Carlisle Arizona Women's Golf Classic is only a few days away, and representatives from all over the country are coming in with hopes of coming out at the top of the leaderboard. The classic is making its next appearance at the Longbow Golf Club in Mesa, Arizona from March 17th to the 20th. This tournament is a part of the Epson Tour, which is entering its 42nd competitive season in 2022. The field is full of star professionals looking to garner a win with only one Epson Tour 2022 winner in the field, Kum-Kang Park (Florida's Natural Charity Classic).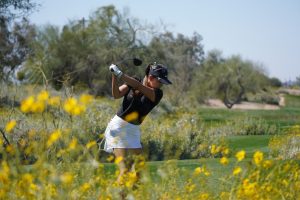 The group for the upcoming tournament spans across the world with representatives attending from 22 different states, and a staggering 35 different countries. The tour looks to make it a priority to invest in the world's most talented female professional golfers from across the globe having a successful career on the LPGA Tour. They are following in that direction as they bring in 22 Rookies that will look to make a strong impact on this major stage.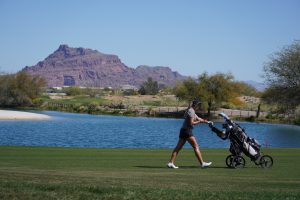 Arizona State has its imprint on this year's group of participants as eight former collegiate players including Roberta Liti, Louise Stahle, and Carlisle Companies ambassador, Olivia Mehaffey looks to represent their former program at a high level.
Mehaffey, a local Tempe native, has a multitude of storylines surrounding her name in this tournament, and the odds for a potential top finish are looking intriguing to say the least. The Irishwoman is not only feeling magnificent about an opening round beginning on St. Patrick's Day, but she is also betting on one consistent supporter to be by her side throughout.
Philip Mehaffey, Olivia's Father, passed away on December 3, 2021, and a true mega fan and partner in crime was lost. Their bond was solely rooted in a sport they both genuinely loved.
"My dad is the reason I play golf, " said Mehaffey.
The former Sun Devil consistently participated in events back at their home of Tandragee with her Father, and Philip was invested in attending his daughter's LPGA Tour debut at the ISPS Handa World Invitational last summer. She would later make it to Stage two of the 2021 LPGA Qualifying Tournament but would end up falling short. Though it was tough news to not move forward, the timing may have been a major blessing in disguise. Playing golf was just not the same without the mental presence of her mentor and closest supporter.
"This was the thing I did with him. To lose that, I wasn't enjoying golf when I first came back," Mehaffey said. "To start my season, I changed my mentality to where I think he has the best seat in the house and is really watching over me."
She will continue to pursue her strong passion for playing golf, and she is carrying the spirit and memory of her late Father by her side. A tight bond cannot be broken, and the power duo will continue to make its impact for the rest of time.
"I created so many memories with him through golf, and it still feels like there's a lot more to come," Mehaffey said.
The Epson Tour went from 15 tournaments and $1.6 million in prize money, to a very impressive 20-plus events in 2022 with more than double their normal prize money. With 459 former Epson Tour participants having won LPGA titles, the goal remains the same for providing a stage for athletes like Olivia Mehaffey to showcase their skills. The tournament is not only looking to produce for elite athletes, but are making it an utmost priority to bring athletes together through a beautiful sport.