I was in Tucson for lunch on Tuesday at Arizona Stadium to hear about the opening of the Wildcat's spring football practice.
Jedd Fisch may have won just once last season, but at least we can have a conversation over lunch about a program trying to pull itself up off the deck. Believing what a head coach says matters. I believe in what Fisch is trying to do in Tucson. Turning over a third of the roster he inherited after the dismal run of Kevin Sumlin says a lot. The Wildcats open spring ball on Wednesday with 22 new faces, and will add 19 more once camp opens later this year. 41 fresh bodies. THAT is pressing the reset button.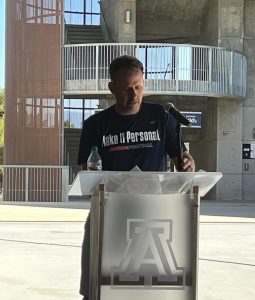 Fisch cut through each position group talking about the negatives as easily as the positives. " We were last in red zone offense and red zone defense last season". Truth hurts.
Defensive lineman Jason Harris(Higley) has gained 30 pounds. Linebacker Malik Reed(Chandler) is at 226 "looks great". Running back Drake Anderson(Chandler) is up 17 pounds from when he first arrived on campus. Several other Valley players were mentioned by Fisch, which is to be expected since the Wildcats have made recruiting the 602, 623, 480, a true point of emphasis.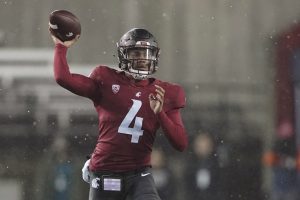 Arizona has six quarterbacks to work in spring ball including Pac-12 freshman of the year transfer Jayden de Laura(Washington State). The head coach would like to get that position settled sooner than later. The idea of rotating reps for quarterbacks in practice and games isn't good for anyone. I'd be surprised if de Laura isn't the starter for the opener on September 3rd at San Diego State, but that's just me looking at the tea leaves.
"We must find a way to improve in every facet". Speaking truth. An enjoyable meal..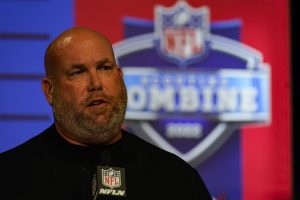 At the NFL Combine in Indianapolis Cardinals GM Steve Keim said the expected on Kyler Murray's Monday manifesto, giving media the company line on Tuesday. "People have different ways of approaching things and I respect it," Keim said. "You can't get caught up taking things personal. It is a business. you have to be able to separate the business and the personal side of it."
Phoenix should be the home of the NFL Combine. Indianapolis in March vs what we have? C'mon. We have some of the best medical facilities in the nation that are such a big part of the Combine too.
B.S. line of the day from Major League Commissioner Rob Manfred, " the concerns of our fans are at the very top of our consideration list". I've heard from a number of readers and viewers that they are tired of the Diamondbacks contacting them through email and phone about buying tickets for the coming season. Yes, I've gotten the emails too. Absurd. Stop it! …