Story by Jeff Metcalfe @jeffmetcalfe
Get ready Sage Elizabeth Marshall.
You're in for quite a ride with your two moms, who probably will figure out a way to turn your delivery into a competition, if nothing else betting on whether you'll enter their world on your April 7 due date.
"Everything we do has to be competitive," says Devin Marshall, who is carrying Sage, the first child for her and wife Katie Hempen.
"This is what keeps us going."
It's what attracted them in the first place when they were Arizona State athletes and what fueled their unintended race to be the first to ask the other to marry. That's a story you need to know, Sage, and likely will hear repeated many times, maybe one you've even heard in the womb.
Turner Thorne sabbatical starts path
Marshall arrived at ASU first — from Bonita, California near San Diego — in fall 2010 to play soccer. At 5-9, she was tall enough and willing to elevate in a crowd, immediately making her a scoring threat on set pieces but also an injury risk.
She earned all-conference honors in three of her four seasons including All Pac-12 second team as a junior when Hempen transferred to ASU to play basketball.
Marshall says, "She ended up living in an apartment near campus and started hanging out with one of the (soccer) girls. It was a friend type of thing. We knew each other for a year before we started dating."
"When we first met, we were both young and coming out of relationships," Hempen says. "I knew I wanted to marry Devin. We connect very well. Just like as athletes, we have each other's back."
Their connection likely never would have happened had Charli Turner Thorne not decided she needed a break after 18 years as a head coach (she recently retired after her 25th season at ASU).
It's early 2012. Hempen, as a freshman, already is making a name for herself at Southern Illinois Edwardsville, near where she grew up in the small town of Highland. Her coach, Amanda Levens, made All Pac-10 twice after transferring to ASU. When Turner Thorne, on sabbatical from ASU in 2011-12, went on a professional growth tour, one of the mandatory stops was to see Levens, in her fourth season as a first-time head coach.
"I remember that clear as day," Turner Thorne says. "Katie was an (Ohio Valley Conference) Freshman of the Year candidate, a super fun, outgoing kid. Amanda told me what a neat kid she was, and she came up like she's known me for years. She was wise beyond her years."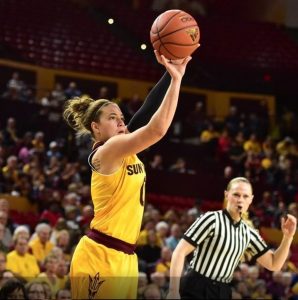 Hempen, then 18, remembers not practicing that week after coming down on a teammate's foot.
That left her "sitting next to Charli, talking with her and building a relationship I thought would never go anywhere."
But it did go far, Sage. In a not completely direct line to you really. Levens returned to ASU in 2012-13 as an assistant coach.
"My first response was don't take players (specifically Hempen) with you," Turner Thorne says. "I kind of shut it down."
But Charli, she's not going to stay, Levens countered. Deep inside, Turner Thorne knew Hempen could bring much to the table, just as Levens had as a transfer from Old Dominion.
"It absolutely helped having had a conversation with her unbeknownst it would work out this way.
"We thought she would be a great shooter and a smart player. She was amazing at both of those. She was a kid you wanted to be around and you wanted to coach. She wanted to be in the gym and loved the game. She was a kid you could never go wrong with."
Dueling proposals Friendship grew into a dating relationship in 2013, when Marshall
Dueling proposals
Friendship grew into a dating relationship in 2013, when Marshall was closing out her soccer career and Hempen going into her first of three seasons playing for ASU basketball after sitting out 2012-13 as a transfer. Devin made Pac-12 All-Freshman in 2010 then second team in 2012, finishing her career with 22 goals and 55 points. Katie is ASU's 3-point career (185) and single-season (76) leader and was all-conference as a senior in 2015-16.
By then, three years of dating had both scheming how to propose marriage before the other.
"We took a couple of (dating) breaks," Marshall says. "Nothing more than a couple of months. It was more me not knowing what I wanted. Luckily, she stuck with me. I don't know how she did it. I'm thankful for that because I can't imagine my life different (without Hempen)."
Devin actually won the proposal competition, Sage, on the day after your moms decided at dinner that the one proposed to would pay for the honeymoon. Katie figured she couldn't lose that bet, having already asked Devin's parents for their marriage blessing, purchased a ring, and planned her proposal at a sunset overlook in San Diego.
What she couldn't account for was Devin's spontaneity. In July 2016, Marshall within a week bought a ring and came up with a plan to propose at Tempe Town Lake that involved her cousin as a photographer ploy and your dog Scout, then a puppy.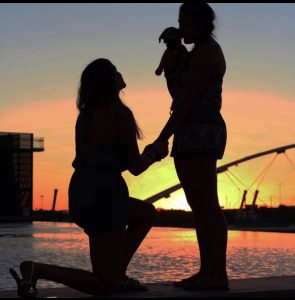 Devin: "I had to get real creative to get Katie to dress up."
Katie: "It was totally out of left field. I thought there was no way she is going to propose before me. Devin told me to close my eyes and put my hand out," which is where Scout and the ring came in.
Devin's parents knew what was coming and what Katie had in mind, caught in the middle of a Seinfeldlike dilemma.
"When I told them, what are they going to do?" Marshall says. "They did nothing and let it all play out then afterward said we're so mad at you for doing this to us."
What's Katie going to do with her ring? Grandma Hempen inadvertently wondered that aloud to Devin after the first proposal.
"I just changed the subject," Marshall says. "I didn't know what her plan was, but I knew something was up. It was still a surprise." Katie: "It took me a solid month to get everything set up. I was going to finish it out," three weeks after Devin's proposal.
Devin: "We walked up to my spot since I was a kid," where her mom spread the ashes of an earlier stillborn child. "Katie had a blanket set up and a book she made. People say you're so competitive you would propose to each other. It describes us."
Overcoming long distance
You might imagine Sage, after dueling proposals, that your moms' wedding soon followed. You would be wrong. Katie played professional basketball in Greece in the 2017-18 season and Devin coached soccer with the Phoenix Rush club team.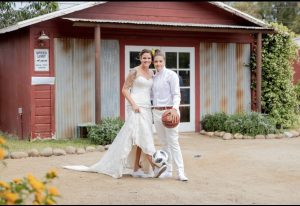 Even after the wedding – June 23, 2018, a month short of five years from their first date – the relationship remained long distance for much of the next two years with Katie beginning her coaching career at Eastern Michigan and Devin still in Arizona.
"We're pretty much pros at it," Katie says. "You've got to be able to communicate through adversity. That's a big part of why we do so well today."
The wedding was a country (Katie) meets city (Devin) theme in San Diego with the ceremony outdoors then dinner, dancing, and singing in a barn. Things mostly went well but FYI, don't even think about growing ever depriving mom of pizza.
"Katie doesn't get mad often, she's pretty chill," Devin says. "When we ordered pizza for our bridal party, we said don't touch the pizza until we're done taking pictures. When we get back, there was one slice of pepperoni left. Katie lost it on everyone."
But the wedding was more sweet than sour like when your moms stood back-to-back before first seeing each other and read aloud letters written to each other.
"It's one of those moments when you realize how loved you are," Devin says. "And with Sage coming, how loved she is going to be because we are so loved. We're excited to see that with her."
Marshall always wanted to have children before she turned 30, realizing early on whether she married or not that being a mom would be part of her future. She almost made it before 30, hitting that milestone birthday March 16, just weeks before your arrival Sage. Working up to starting a family took a few years and Devin moved to Ypsilanti, Mich., so she and Katie could begin talking to doctors about the insemination process and cost.
"There are lots of ups and downs," says Katie, not the least of which was her bout with COVID around Christmas. "We were pretty fortunate how quick we were able to get pregnant."
And thankful for the support of their Eastern Michigan family including Fred Castro, women's basketball head coach, who was an assistant at Washington when Hempen played for ASU.
"They'll be great parents," says Castro, a father of two. "So much of it has to with relationships, being selfless, and doing the right thing. That's exactly what they do. Sage is going to be very fortunate to have two parents who are going to care for her a great deal and teach her all the things she needs to know."
Castro believes Hempen, 29 in May, has superstar coaching potential.
"There's no doubt she's going to be a head coach, it's not a matter of if but of when. She's wise beyond her years in terms of basketball and coaching. She got a great education at Arizona State from coach Turner Thorne."
Turner Thorne, a mother of three boys, sees Hempen as "someone I would want my daughter to play for. She cares for people and has the character to go with her basketball IQ. She's going to be a great mom and will pour her heart and soul into it like everything she does."
One more thing Sage, about your name. It's not from either side of your family, but one your moms came across and fell in love with maybe a year ago.
Katie: "I'm excited see Devin as a mom. I can't wait to do anything and everything with her (Sage). Soccer or basketball, I don't care what she plays. I want her to be passionate in whatever she does."
Devin: "I'm so excited to watch Katie become a mom. Mini us, mini-me. I don't know if the world if ready for it, but we are."