Story by Sam Stern
The Carlisle Arizona Women's Golf Classic concluded this past Sunday, and a fight for the Epson Tour title was up for grabs. Fatima Fernandez Cano was ultimately victorious over the weekend and added a new milestone to her already impressive resume.
The native of Santiago de Compostela, Spain, not only accumulated $37,500 for her win, but she also garnered enough money to become No.3 overall on the Epson Tour career-earnings list. With that incredible accomplishment, she now has a staggering $284,455 in her already illustrious career.
Cano, an Epson Tour Ambassador, was a Sun Belt Conference Women's Golfer of the Year at Troy back in 2016, and she is an eight-time medalist including a Sun Belt Conference Championship in 2014. Her transition to the professional level in 2018 was seamless as she would soon qualify for the U.S. Women's Open Championship at the Country Club of Charleston. From then on she has become a consistent face of this tournament making 19 cuts across 20 starts on the Epson tour just one year ago. Prior to this win, her best finish was a second place mark last year at both the Symetra Classic and the Carolina Golf Classic.
With this win, the 26-year-old now holds two career Epson Tour victories, and she will attack that win column in the future, while also working to move her way up on the career earnings list. Her last tournament win came at the 2020 IOA Championship.
The defending Morongo Golf Club Winner Sophie Hausmann (Courtesy: Univ. of Idaho Athletics)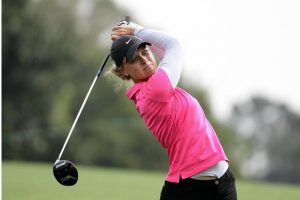 The next Epson Tour tournament stop will take place in Beaumont, California at the Morongo Golf Club at Tukwet Canyon from March 25th to the 27th. The tour is being presented by Morongo Casino Resort and Spa, and the field is looking highly competitive featuring the defending champion, Sophie Hausmann.
The German star's first tournament win in Beaumont came just a year after Fatima Fernandez Cano had won her first title in the same tournament. Look for Hausmann to come out with vengeance this next weekend as she will look to reclaim her 1st place status on the leaderboard.