Why isn't Devin Booker being considered as a Most Valuable Player candidate? I can't say for sure that he won't get votes, but what I can say without reservation is that regular-season awards don't mean much of anything compared to winning an NBA title and being named the MVP of a championship series.
Five years ago, Booker scored 70 points on 40 shots and 26 free throws in a 10-point LOSS at Boston. He was on a bad team, and he had to carry the load. Thankfully those days have been traded in for winning most nights. Thursday at Denver, Booker had an MVP-worthy performance, scoring 49 on 16 of 25 shooting and making 15 of 17 free throws in 39 minutes in a Suns 10-point victory.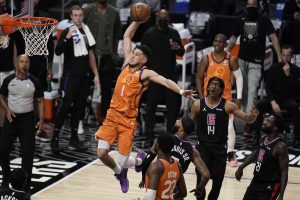 He's shooting over 46% from the floor and 37% percent behind the arc—really, really productive numbers. MVP caliber stats don't appear to add up to an MVP award outside of Phoenix for the Suns star guard.
Votes will go to Embid, Jokic, and Giannis because they've been in the regular MVP cycle for the last few years. Booker's national profile is picking up attention. Fair or not being featured in a national commercial with Snoop for a beer shouldn't have anything to do with his MVP merits, but it does raise his national profile. Each member of the voting panel casts a vote for first to fifth-place selections. The more they see him, the more they remember.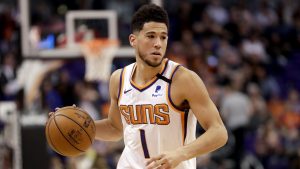 It's not a fair fight for the Suns guard when you consider how much attention the three big men listed earlier receive on a nightly basis. If Booker wore a Lakers, Knicks, or Celtics jersey, it would be a different story. The NBA and their media partners love putting the big market teams on the national games in prime slots more weekly. Yes, the Suns national profile is much better than those miserable years when Booker was on substandard teams.
While we admire his greatness, I don't believe he will win the regular season MVP. A Bill Russell Most Valuable Player award being held above his head and the Larry O'Brien Trophy under his arm is the bigger goal.
In my opinion, he's the MVP of the regular season, but I see his greatness and productivity every night. Others only see his production and winning ways through highlights and Snoop Dog drinking a cold one.