Arizona basketball wasn't clean and crisp(19 turnovers), but in the NCAA Basketball Tournament, the motto is "survive and advance".
Friday night the South region top-seed Wildcats opened their run to the title game in New Orleans with a stop in San Diego, overwhelming the 16 seed Wright State Raiders 87-70 and advancing into the round of 32.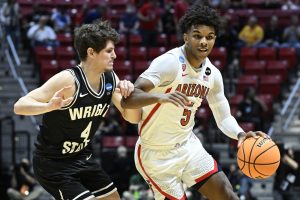 The shorts and flip-flops crowd decked out in red and blue had plenty to cheer about, even if their team didn't play the cleanest of games. The Wildcats committed 9 turnovers in the first 8 minutes of the game and yet, still had the lead.
Arizona center Christian Koloko had 18 points, 12 rebounds, and 6 assists. Four Wildcat starters scored in double figures, shooting 55-percent from the floor.
Arizona awaits the winner of the late game Friday night between TCU and Seton Hall.