As the WM Phoenix Open comes to a close today, the big game is now at the forefront of the minds of Arizona sports fans.
This is a day that casual and serious bettors live for. There's prop bets for just about every aspect of the game, from the broadcast, the national anthem, and even the color of the Gatorade shower. There weren't any bets for the puppy bowl this morning though, sorry Jordan Hamm.
.@DraftKings when do the Puppy Bowl prop bets drop

— Jordan Hamm (@JordyHamm) February 13, 2022
First off, bets may be difficult to place this year. Unless you're a true Rams or Bengals fan, there isn't a villain in this game. Matthew Stafford is beloved by most and a Super Bowl ring would elevate his status among the all-time greats. Joe Burrow has the "it" factor, whatever that is. He took over the college football landscape just two years ago and led arguably the greatest college team ever to a national title. It's easy to root for both storylines, so bets are going to come down to gut feelings.
So if you want some advice, and possibly a person to blame if you lose, here's what I'm betting on today with DraftKings.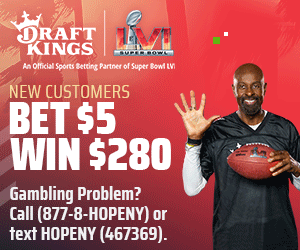 Bengals (+4)
Momentum is real. That's controversial to some, but the Bengals really do have the most momentum. An 18-point comeback against the Kansas City Chiefs cements that momentum, even if it was draining just two weeks ago.
During the regular season, Zac Taylor's team lost five of its seven games by four points or less. The Bengals also won five games decided by three or less. This SHOULD be a close game, which is why four points is favorable for Bengals bettors. Plus, it helps you root for some Evan McPherson late game magic.
Same Game Parlay
Over 48.5 Points, Ja'Marr Chase Anytime TD Scorer, Matthew Stafford Over 274.5 Passing Yards, Joe Mixon Over 64.5 Rushing Yards, Rams 4+ Sacks
Yes, this is a pretty hefty same game parlay. However, DraftKings has a risk free offer today for up to $10. So if this doesn't happen, you're not out $10.

Both offenses are going to score often, especially in the second half. If the Bengals are going to stay in this game, Burrow will need to target Ja'Marr Chase often, especially in the red zone. He's the best player they have. Cooper Kupp could be a lock for the Rams too, but they have tons of options and Sean McVay will have some wild plays lined up for the red zone. Matthew Stafford is shaking the notion that he's not sa big time quarterback. The Bengals rush defense is solid, so Stafford will be airing it out often. On the flip side, Burrow is facing a ferocious pass rush. While he will need to air it out eventually, the first half could see a bunch of Joe Mixon carries. With that said, the Rams will still sack Burrow at least four times.
Super Bowl Specials
Position of MVP (Quarterback -300, Defensive Lineman (+1000)
Of course Stafford and Burrow are the MVP favorites. If the Rams win, Aaron Donald could be a smart bet, especially with odds at +1000 for defensive lineman.
Color of Gatorade Poured on Winning Head Coach (None +600)
Okay this is my favorite prop bet every year. Since 2001 the colors have been: Orange (5), None (5), Clear (4), Yellow (3), Blue (3), Purple (1).
Orange seems smart for the Bengals, but that's too obvious, right? None is a safe bet if the game goes down to the wire. Emotions take over and teams forget to do the bath. If you're all in on a color, it should be clear.