I pressed reset this week.
Saturday night, sitting at the Croft in downtown Phoenix, I found myself getting teared up with pride watching Jordan Hamm and Sarah Kezele exchange their vows. Ralph Amsden was the officiant, so between the three of them, there was no doubt shenanigans would follow in front of family and friends. (I was correct)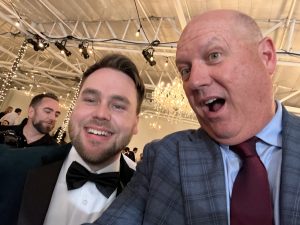 The work that you read and see here and on the TV show from Jordan isn't nearly as good as he is as a person. Many people can get in front of a camera and be sharp; not many I've worked with through the years have the calm demeanor that Jordan possesses. When he believes I can be a better leader, his ability to call me out is also appreciated. I know that when he calls me "Bradford" or "good Brad, bad Brad" it's time for me to check myself. We all need people like that in our lives. Saturday night was fun…
I turned 57 on 2/22/2022. I was hoping for the big day to include a hole in one(it didn't happen). Played three courses in three days over in Southern California. The Journey in Temecula, Maderas in Poway, and Aviara in Carlsbad. We had rain, wind, cold, and plenty of laughs.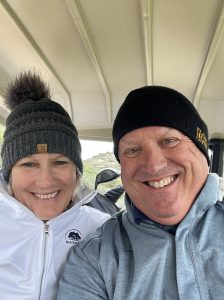 I'm not good at golf. My "handicap" is my showing up for a tee time. I shoot in the 90s with occasionally breaking ground in either direction. It's the outdoor companionship and mental challenge that I love the most when out on a course.
We had a couple of dinners with high school friends. Deep, meaningful dialogue over meatballs and the hometown pizza place(Fillippis) made for good evenings. Fortunately, there was minimal conversation about sports during the week.
Driving back through the early morning snow in Alpine, I started to think about next week's TV show. How are the documentaries progressing? What are some projects I want to take on? What are some I want to let go of? I've been feeling a bit of an itch to get back to radio on a semi-regular basis. A couple of recent guest shots got me thinking that "chopping it up" more often would be fun.
This week felt different and necessary. I'm on the back 9 of life and am OK with that…