If you're a fan of heavy weight matchups, it doesn't get much better than this Pac-12 bout.
Top two teams in the conference and both currently ranked amongst the best 10 programs in the country.
This has the potential to be a season-defining game for both the Wildcats and the Bruins.
UArizona is coming off their Territorial Cup win while UCLA is riding a six-game winning streak.
One of the six was a comfortable victory over the Wildcats at the end of January..
"We're not gonna overreact," UArizona head coach Tommy Lloyd said. "We played a really good team that was better than us that day. They're unique in the fact that they have multiple guys that are comfortable playing in isolation situations. You don't find that a lot in college these days."
Going into 'Round Two' in Tucson, the Wildcats have continued to iron out the wrinkles in their games.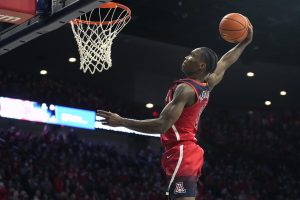 "Confidence ebbs and flows over the course of these seasons." Lloyd said. "The team definitely has a core belief in itself and what we do. All it takes is stacking together a couple good plays and that confidence comes back real quick. I've been happy with the defense. We have a chance to be one of the elite defensive teams in the country."
That defense will have to be on display because the Bruins are getting their leading scorer in Johnny Juzang back from COVID protocols after missing the last two contests.
Even though UCLA is 5-0 on the road, being the visiting team at the McKale Center isn't usually an enjoyable experience.
UArizona boasts an undefeated 11-0 record at home this season and have sent conference opponents packing by an average win margin of nearly 17 points.
"We're expecting a great crowd," Lloyd said. "What makes this community so special is the way they support their team."
As big as this game is, Lloyd doesn't let the short term achievements distract from the long term goals.
"It feels good to be playing meaningful games this time of year," Lloyd said. "Trying to compete for a conference championship – that's where you want to be. You've given yourself an opportunity."
The Bruins and Wildcats will clash in Tucson on Thursday at 6:00pm.