The Wildcats have propelled themselves into the national spotlight and they're shutting out the noise while making more of their own.
"Trying to compete for a conference championship – that's where you want to be."
Wildcats head coach Tommy Lloyd said this on February 2nd, the day before UArizona defeated then-No. 3 UCLA.
Since that victory, the now-No. 2 Wildcats have rattled off six more wins in a row and are 24-2 heading into the final stretch of the regular season.
Not only are they competing for the conference title, they're the favorites.
"We have a target of the Pac-12 on our backs," Guard Justin Kier said. "We just gotta stay locked in."
That kind of success will attract scrutiny on a national scale.
"That's why even having College GameDay down here last week was a good deal," Lloyd said. "We weren't looking for the extra attention, but when it came, you don't push it aside because you want to get used to operating when you're under the microscope a little bit because that's part of the process."
But just because it's part of the process, doesn't mean it can't be part of the fun.
"When we get our time on the court, it's a special time for us to do our deal," Lloyd said. "Whether that's practice, film room, game. We gotta take advantage of it and enjoy it. That's the reason you're getting the extra attention so you keep the main thing, the main thing."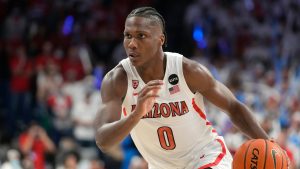 Considering there are 13 underclassmen on the roster, the poise and maturity of this squad throughout the season has been impressive.
"That's the best thing about this young team is that when we're down 10 at the beginning of the first half or whatever, we don't panic," Kier said. "That's also the coaching staff. Credit to them. They give us a lot of confidence to play and I think that's why we're having so much success."
While the young bucks have been lighting it up, players like sixth-year student-athlete Justin Kier are the anchors that hold this roster down.
"I talk to Kerr a lot, DT, Shane," Kier said. "Just try to give them pointers so when I leave maybe they'll remember them."
The veteran guard represents the selflessness that has led to the program's success in Lloyd's first year.
"The lot of them want more," Lloyd said. "More doesn't have to mean 'me'. More can mean 'we'. This group's experiencing more in a lot of ways, other ways this year that aren't specifically tied to an individual."
They lead the nation in assists per game at just over 20 as well as rebounds, pulling down about 43 per contest.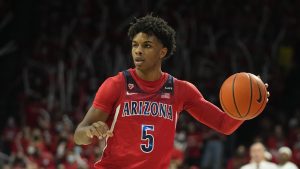 With March around the corner, expectations for No. 2 UArizona go far beyond the next five games.
Winning a Pac-12 championship is the minimum, with their broader sights set on the National Title.
"I've seen a lot of teams at this time crumble," Kier said. "They think, 'If we lose a couple games, we're fine.' That's not how it should be here. We're good enough to finish this thing out."
The Wildcats will look for their ninth straight win against Utah on the road at 9:00pm on Thursday.