Name. Image. Likeness. NIL. The three pillars in which college athletes are now able to make money, while in college. Will NIL eventually hit high school players? Upon looking a bit deeper into the subject, it already has.
Bronny James is Lebron James son. The prep star in California recently filed three trademarks. He's a junior at Sierra Canyon high school, and in the 2023 class. His eye is on video games, clothing, and NFT's.
Name. Image. Likeness. NIL
Mikey Williams is a class of 2023 basketball player in Charlotte, North Carolina. He signed a multi-year deal with Puma last Fall.
Arch Manning, the nephew to Eli and Peyton Manning, is considered the top high school QB prospect in the nation for 2023. His college choice is reportedly down to Florida, Alabama, Texas, Ole Miss, LSU. His NIL, because of the Manning name, could command north of five million dollars as a starting point according to reports.
NIL isn't available for every high school athlete, at least, not yet. Texas has a state law prohibiting NIL. New York and California do allow high schoolers to participate.
Here's the stance in Arizona on Name. Image. Likeness from the AIA bylaws. Executive Director David Hines sent this over to me earlier this week.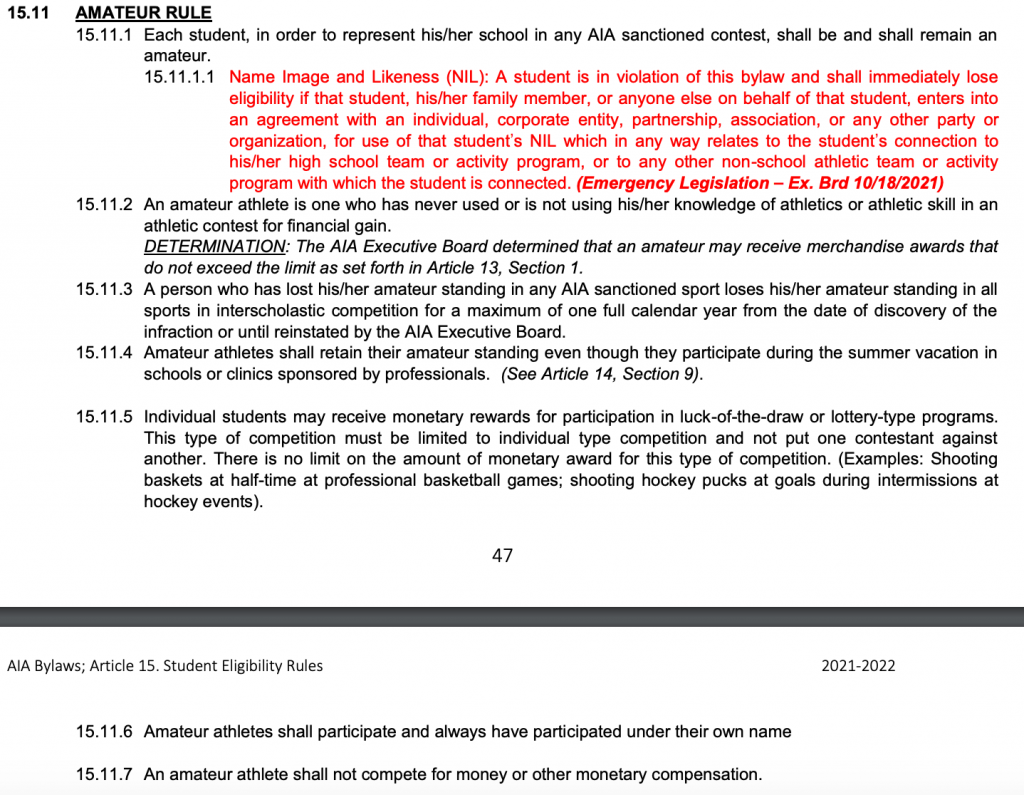 In speaking with several Valley high school football coaches and those in the legal profession, the consensus is, it's just a matter of time before someone will challenge the AIA bylaw. Who that would be? No clue. When? No idea. But it's interesting to me to see this national trend taking hold outside of Arizona. Earlier this week, I was texting with an assistant coach from one of the Open Division schools, who relayed a conversation he was having with a Pac-12 head football coach about NIL already happening in high school sports in California. If you don't think that this will ever happen in our state, I'd beg to differ. It's just a matter of when…