Story by Sam Stern
The Arizona State Men's Basketball program has had its share of ups and downs throughout the season. For sophomore guards, Cade and Austin Ronzone, being a part of the team is more than just basketball. After growing up with a father that had a history in basketball coaching and recruiting at the college and professional level, working toward playing at the collegiate level was a no-brainer.
The path was not an easy one coming out of high school for the Ronzone brothers in 2020. Coming from Bishop O'Dowd high school in Oakland, California, the build up for a potential state championship was cut short by the Covid-19 pandemic. As with the great majority of people around the world, the two of them had to adapt on the fly in order to figure out where they would play in college. The two star guards would garner numerous Division two and three offers, but an offer from Arizona State stood out from the others on the list.
When it came to hoops, the Ronzone brothers had the privilege of having a Father that can best be described as a basketball savant. Tony Ronzone, has placed his fingerprint on the game through the years both in the United States and internationally as a player, coach, scout, and more. One of his first coaching opportunities came from the Sun Devils back when Bill Frieder was the head coach in the 90's. For him, seeing this come full circle with his two sons playing with his former team was everything he could've wanted.
"I used to coach there with Frieder back in the day with the same arena, same facility, and now they are a part of the program," Tony Ronzone said. "It's exciting for me to sit in the background, and let them have their time, you know, and enjoy the moment and be part of the program."
Cade and Austin have reaped the benefits of having a mentor that has been immersed in the game for many years. Whether that was coaching internationally in New Zealand and Saudi Arabia, or leading the front office side for the Detroit Pistons and the Minnesota Timberwolves, or even becoming the first American to coach the Chinese National basketball team led by Yao Ming, the brothers have learned a plethora of lessons over the years from their father.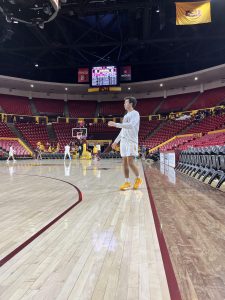 "It's been a huge impact because growing up, especially in the Bay Area, my Dad was pretty big time," Cade Ronzone said. "He showed us different basketball IQ tips, and he would take us at a young age to NBA games, and some of the best possible basketball camps. He would just give us little nip picks on players and stuff like that. Those things really resonated with both of us."
Being on the Arizona State team and playing underneath a former professional point guard was really a major positive for the Ronzone family, but the final decision was heavily based on life after college. Learning the life aspect was always important from the start, and both of them understood what life was like off the floor. Learning what it means to be an elite teammate and person is just one example of the many they learned growing up.
The Ronzone brothers have met numerous professional players, and Austin Ronzone has even thrown an alley-oop pass to basketball legend LeBron James at a USA basketball camp. They have seen up close and personal what it's like to be a true pro through their father's stories and long time experiences. Playing college basketball and making it to that level has not only made their parents proud, but it has truly impacted the lives of both Austin and Cade. Understanding what happens behind the scenes at such an early age gave them a huge head start early on.
"It's just been humbling and a great experience," Austin Ronzone said. "You understand people get cut, people get traded. We know it comes with just being well-rounded. It has taught us outside of basketball to like to learn the basketball process and what life is like."
With only being Sophomores in college, the two have a lot more basketball to play and life lessons to learn, and Tony Ronzone is beyond thrilled to see where his two sons do post hoops. He is almost completely sold on the idea of his sons working in the sport after college.
"Yes, they've been around the game too much. They love the game. They study it. They know every player, they follow college and they even follow Europe," Tony Rozone said. "I definitely see them pursuing the game. In what direction? I don't know. It could be coaching, could be front office, could be scouting, could be overseas. I think there's a lot of avenues open for them to pursue but I know being a part of the Arizona State program will play a part in their education moving forward to the next direction."
The Ronzone family continues to have an impact on the game today, and it will be interesting to see what the future holds for the Ronzones. Buckle up and get ready, because there are two brothers looking to leave their mark on the sport forever. From one generation to the next, the deep admiration for the sport of basketball lives on forever.