Story by Jude Binkley

Six years ago, Jacky Hunt-Broersma didn't consider herself a runner. As a kid, she was the type of person who would hide in the bathroom to avoid running in gym class. Now, she's in the middle of a world record attempt of running a marathon – 26.2 miles – a day for 100 straight days.

The 46-year-old didn't start running until late 2015, after she'd lost her leg to Ewig's sarcoma cancer. In just over a year she had gone from a beginner to running her first 40-mile ultra marathon trail race.

"It's just that incredible feeling of pushing your body further and further and just crossing that finish line," Hunt-Broersma said. "Just getting yourself out of your comfort zone and doing something you didn't think you'd be able to do. And that's how I kind of started doing all these crazy things, because I'm like, 'Why not?' You live once, you've got to try it."

Hunt-Broersma was born and raised in South Africa. She lived in the UK before hopping across the pond and moving to North Carolina. Last June she moved to Arizona, where she prefers the dry desert heat over the humid summers of the Atlantic coastal plains.

Hunt-Broeserma is a third of the way through the record attempt, on day 33 out of 100. She started on January 17, and has April 27 circled as day 100. The current female record for consecutive daily marathons is 95 days.

She had seen the current record on social media and wanted to find out if she could do it. She had just finished a 100-mile race at the end of 2021 and was conditioning for her next big ultra marathon. Hunt-Broersma also had the goal of inspiring others by taking on this record.

"I feel like we all are so much more capable of what we think we can do," Hunt-Broersma said. "So my goal was to inspire people to get out of their comfort zone. So whether that's going for your first-mile hike, I mean it doesn't have to be crazy like what I'm doing. But it's just something that you think is a little scary, something that takes you out of your comfort zone and just gets you moving and doing it."

This isn't the first world record that Hunt-Broersma has chased down. Last year she set a world record by becoming the first amputee to run 100 miles on a treadmill, doing it in under 24 hours.
"Running for me is just so mental," Hunt-Broersma said. "For me, I kind of work through it. I kind of always try to focus on the positive, like you're doing something that others take for granted."

Every day, Hunt-Broersma posts an update on her Instagram and Twitter holding a piece of paper marking off each marathon that she's ran. Her comments and replies are flooded with words of encouragement, and people share their stories on how they've been inspired.

To lessen the blow that running 2620 will take on her body, she's mixed up the terrains of the marathons by running on a treadmill, the road, and gravel at her local park in Gilbert. Between her runs, she works on stretches and gets enough sleep. She's honed in on listening to what her body needs to avoid getting injured.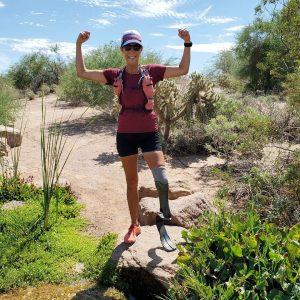 "It's weird, I went through a bit of a struggle in the beginning, and my body had to get used to the mileage. And my body was feeling really tired," Hunt-Broersma said. "But as I'm going along, my body seems to be repairing a lot quicker…our bodies are incredible because our bodies just kind of adapt."
Another runner from the UK is also attempting this record. She will be finishing two weeks before Hunt-Broersma. Because of this, Hunt-Broersma is prepared to run more than 100 marathons to break the record.

Hunt-Broersma is doing all of this with a below-the-knee prosthetic, called a running blade, on her left leg. The curved prosthetic flexes when running, in a way to mimic an ankle. Hunt-Broersma's running blade has a split-toe design, which glides over rocks and helps her move through trails better.

In addition to inspiring others, Hunt-Broersma is also attempting this record to raise money for Amputee Blade Runners, a charity that provides running blades to amputees. Running prosthetics can cost between $10,000-$20,000, and aren't always covered by insurance.
"Running changed my life so much because I didn't like that I was an amputee. And for me, running kind of gave me the confidence to just be who I was and to show off my prosthetic and be proud of what I can do as an amputee," Hunt-Broersma said. "It's given me the opportunity to show you can achieve amazing things, even if crappy things happen."
Other amputees have reached out to Hunt-Broersma to ask for advice on running tips and prosthetics. She uses social media as a platform to share information and inspire amputees and others to run and see anything as achievable.
While she's mostly been sticking to the pavement during this record, Hunt-Broersma's love is in trail running – running on unpaved surfaces, typically hiking trails and mountains. She often runs the trails of the San Tan Mountains and South Mountain.
Amputees don't normally run trails, since the prosthetics aren't designed for unstable surfaces. But Hunt-Broersma has tackled multiple trail ultramarathons and was the first amputee to run the TransRockies mountain stage race in Colorado. The six-day race covered 120 miles with over 20,000 feet of climbing.

Hunt-Broersma's next goal is to conquer the Moab 240, a 240-mile race through Utah's mountainous Arches National Parks. It's considered one of the toughest races in the world, where runners ascend 28,893 feet – nearly the height of Mount Everest.
Hunt-Boersma is using the 100 marathons as a base building exercise for Moab 240, which takes place in October.

She competed in the Moab 240 last year but didn't make one of the cutoff times due to rain and muddy terrain slowing her down.

"I was totally gutted," Hunt-Boersma said. "So I'm going back with determination, whatever it takes. I'm gonna get to that finish line and get myself across that finish line."
After her record attempt, she'll be focusing on strength and climbing in order to get faster in time for Moab 240.
In running Moab 240, Hunt-Boersma wants to see how far she can push her body. She also enjoys the camaraderie of the ultramarathon community, where everyone wants each other to succeed.

"It's just totally insane. It's something I never imagined when I became an amputee," Hunt-Broersma said. "It just seemed impossible. And it's just like, 'Well, here we go!'"

You can follow Jacky's world record attempt progress through her Instagram and Twitter accounts, @ncrunnerjacky.