By Zach Alvira
Jude LaCava spent more than three decades reporting on local high school, college and professional sports teams in the Valley and across the state and nation.
He would grace everyone's television sets nightly during the week when tuned to Fox 10. He brought a certain level of charisma and confidence to every sportscast, providing his own personal stories and recollection of some of the all-time great moments across all sports.
He had seen teams be crowned champion before. That was a common occurrence in his line of work. But Saturday at Veteran's Memorial Coliseum, he did it in a role he wasn't used to.
Gone were the days he would interview players after winning a state title. This time, he was the one basking in the glory as an assistant coach at Scottsdale Christian Academy, which won its second straight 2A title over Rancho Solano Prep.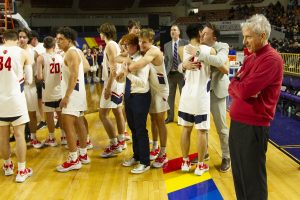 "This group, it's special," LaCava said. "Their toughness and ability to stay tough, I'll go to the coaching. That was so on point. I was blown away by these guys and how coach (Johnathan) Anderson handles himself. The discipline of these kids, in the end it was their discipline and their spirituality that got them through this."
LaCava announced his retirement from Fox 10 in 2020. He spent the last three years working on the Dorothy Foundation, which he started with his wife Sandy. He spent the year fundraising to help develop an Amino Signature Test that can predict cancer 3 to 4 months before it happens.
The test is set to come out soon, LaCava said. It will be through the Arizona State BioDesign Lab.
"That's my first love is to see what we can do against this devastating illness of cancer," LaCava said.
He had contacted some schools to see if they needed an assistant coach in basketball. After all, basketball is his bread and butter.
He had been turned down by several schools before Anderson brought him on. To him, a Phoenix native who grew up watching LaCava like several others on a nightly basis, it was a no-brainer.
"I remember listening to him after Suns games driving home, just so many memories," Anderson said. "So when he asked to be on the staff, I knew instantly he was going to bring a wealth of stories from the most elite players out there and franchises and he can relate to the boys really well.
"He just wanted to share his wisdom with us, and we were ready to absorb it. We loved it."
Not only did LaCava bring a new sense of appreciation for the game, one that centered around some of the All-Star teams he was able to cover throughout his career, he also shared what it meant to be an athlete at the highest level.
LaCava brought in the likes of Luis Gonzales to talk to the Eagle players. He also brought in former Cardinals' lineman Max Starks and at one point tried to bring in Suns legend Dan Majerle.
The players immediately began to gravitate toward LaCava. They couldn't pick his brain enough about his experiences with the game.
"It was really cool to see some of those guys who have been at the highest level," said senior Braden Wells, a 6-foot-8 center for Scottsdale Christian. "They were preaching the same thing our coaches were preaching. It's a recipe for success. We just had to give it our all and buy-in."
LaCava's main goal in retirement was to stay active. Anderson and Scottsdale Christian gave him that opportunity.
Now, instead of reporting on championship teams being sized for their rings, he will be the one receiving one. It was a special season he won't soon forget. That is, until next year when he hopes to return to the Eagle bench for a shot at a third straight championship.
"I'd like to," LaCava said of returning. "If they'll have me."