A Monday Night at Pinnacle
To most, it's simply a mid-season varsity basketball game as the 12-8 Pinnacle Pioneers get set to host Mountain Ridge.
That is until you look a little closer towards the back corridor behind the Pinnacle bench.
After the junior varsity game ends, the court clears, and shortly thereafter, Pinnacle junior forward Duce Robinson and his teammates leave their locker room down the hall and enter the gym.
As the varsity Pioneers swing open the double doors, it's impossible to miss the collection of adults casually dressed in orange, white, crimson and creme, and red and black collegiate gear. Pinnacle takes the floor and Robinson, the 6-foot-6, 225-pound, 2023 five-star tight end prospect, can feel the college football high-profile eyes in attendance watching as he jogs past them out for warmups.
(Photo Courtesy: Kendra Newbury)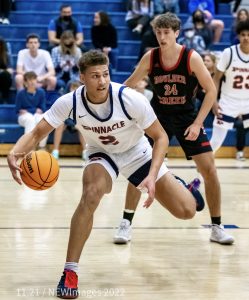 "I'm still trying to soak it all in. I know once I'm gone, in maybe 10 years down the road, I'm going to be thinking back to high school and I'm going to be regretting some decisions I've made. It's all just been a whirlwind."
One big change happened after your sophomore season when Marcus and Mark Carter took over the program for Jose Lucero who left for St. Mary's. What have you enjoyed the most as an upperclassmen playing for the Carter twins?
"When the Carter's came, they installed a fast-paced offense into [our system] with hands signals. It gave me the freedom to check us out of a play at the line of scrimmage so they really got me ready for the next level in that way."
You initially committed to Washington State but ultimately decided Kansas State was the best place for you to continue your academic and athletic career. Why the Wildcats?
"I'm going to be coached at Kansas State by a Heisman Trophy runner-up [Kansas State legend Collin Klein] so that's pretty cool. He's a good guy. The interactions I've had with him…they've always been honest with me which has been important. It's what I've taken from [our conversations]. In the college recruiting business, you know almost every college coach lies to you…it's a business but I felt [the K-State coaches] were genuine and that really sold me. The people there love football and they love the school. I just felt like it was a good place for me."
dreams 2 reality #EMAW pic.twitter.com/GDFsAC8PhQ

— Adryan Lara (@AdryanLara07) January 23, 2022
You mentioned Coach Klein – what were those initial conversations like with him?
"So the first time I talked to him, I was actually still committed to Washington State. That was before [Washington State's] new offensive coordinator [Eric Morris] was hired. He was calling me and wondering if I would flip or anything and if there was an opportunity there. I told him there wasn't and I would be signing with Washington State that week. Then, in like the next two days, the new OC [Morris] called me up and was like, 'I don't care if you talk to other schools. You're more than welcome to do that.' He was giving me a way to get out, essentially saying they didn't want me. So, after that phone call, the next day I called [head] Coach Jake Dickert and told him I was re-opening my recruitment. Right after I got off the phone with him, I called Coach Klein and we set up an official visit. He was really excited."
Were you hurt by the way Washington State treated you after their coaching changes?
"Yes, I was. But I felt like some schools didn't [sign] a quarterback like Indiana, Maryland, Kansas State, obviously. Those schools were reaching out so I was thinking ahead. If I didn't end up at one of those bigger schools, I could head to a [non-Power 5] program, play for a little bit, do my thing, and then enter the transfer portal and then go to a bigger school."
What were your initial impressions of 'The Little Apple" (Manhattan, Kansas) on your visit?
"Umm…I wasn't expecting too much going out there to Kansas [laughing]. I mean, I don't mind Kansas but it surprised me a lot. I can tell why people love going to Manhattan and love being there. It's a great atmosphere, not just on campus, but the whole city, in general."
Last question…this one is a big one. How does a kid from sunny Goodyear, Arizona prepare to live and play college football in the windy, frigid Midwest?
"I don't mind the windy part. I didn't really think about that. The cold? Usually I'm pretty hot. I sweat a lot (laughing). I think I'll do pretty well over there. I'll just put on a really heavy coat. I'll be good."
Shift of Power?
No one will dispute the Premiere Region has been exactly that for several years.
Spear-headed by Chandler, Hamilton, Brophy and the Purdy's-led Perry the Premiere was a given for deep playoff runs and state supremacy.
Now the Premiere has a bit of a new look with neighboring Basha, and Casteel joining Chandler, Hamilton, and Perry.
You could make a case the newly created6A northeast Valley isn't far behind. Saguaro is an Open Division regular and defending champion. Chaparral has played in the last two 6A Championships (winning one). Highland has played in the last two 6A title games against new region foe Chap. Pinnacle has made The Open and Brophy is tough draw and certainly headed in the right direction under Jason Jewell.
This is discussion we can re-address a year from now after the dust has settled on the 2022 season.
We do one thing for certain, no one can dispute this high-level collection of balanced 6A talent (listed above) has never been better.