Arizona State's roller coaster season might be due for an incline after some wild turns the past few weeks.
Turns like a COVID-19 outbreak within the program led to canceling the Territorial Cup and their matchup with UCLA.
"You just don't like to get on that Zoom call and tell the guys, 'okay, here we go again,'" ASU head coach Bobby Hurley said. "Having to do that a few weeks ago was brutal but we also said that there were so many positive cases that the likelihood of us stopping again is very low unless our opponent has issues. At this point, it's full steam ahead."
Now that they're back on track and coming off a tight win against Utah, Sun Devil Men's Hoops has a chance to move to .500 on their upcoming road trip.
"Getting a win the way we did it – close game," Hurley said. "Hopefully that could get us on a good trajectory from this point on and just stay in a solid routine of practicing and playing games and trying to get some momentum. Still 15 league games so we have a lot of opportunities out there."
Opportunities including visits to Stanford, USC, and UArizona to close out January.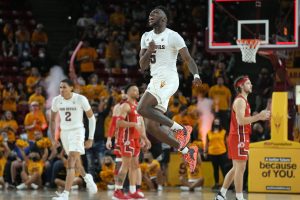 "This is a critical stretch for us and certainly, going on the road, playing some really good competition," Hurley said. "We have some good examples of getting some good wins on the road this year with Creighton and Oregon. Hopefully we're up for the challenge."
That challenge will require Arizona State's forwards to play their best basketball of the season.
"Kimani's coming off a really good performance," Hurley said. "He's gotta be feeling good about himself. Jalen Graham – same thing. Those guys are going to be important, not only for Saturday, but for the next three games because we're looking at playing teams that have very good frontcourts."
Whether lady luck has been on their side or not this year, the Sun Devils have done their best to control the "controllables."
"We have our flaws, but one thing that's not a flaw, is their attitude and their work ethic and how they come into every day with a good attitude," Hurley said. "It's been refreshing this year. This group genuinely likes each other, plays together. It's been a fun team to coach."
The fun continues against the Cardinal this Saturday at 9:00pm, as the Sun Devils target their third conference win.