The deadline for Arizona high schools to appeal their initial conference placements for the 2022-23 season has come and gone, and 26 programs have petitioned the AIA to reconsider its decisions.
The list of schools that applied to have their placements reviewed includes three teams that played in state championship games this past season – Salpointe Catholic, Yuma Catholic and Snowflake. Salpointe, which lost to Horizon in the 5A state championship, is fighting a move to 6A, while Yuma Catholic and Snowflake are resisting a move from 3A to 4A.
Yuma Catholic head coach Rhett Stallworth appeared especially displeased with the AIA's initial ruling, calling it a symbol of the "everyone gets a trophy society we live in" and pointing out that his school would be the smallest in the 4A conference by a wide margin, with only 460 students. Yuma Catholic and Snowflake have met in the 3A state championship each of the last two seasons, with Snowflake winning each meeting.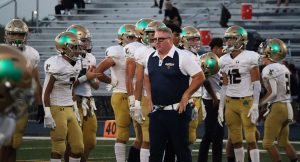 Other playoff teams from 2021-22 that are attempting to stay in their current conferences include 4A juggernaut Gilbert Mesquite, 2A semifinalists Benson and Parker and 2A state champion Arizona Lutheran.
Of the 26 schools that appealed, only three have petitioned to move to a higher conference or to avoid being demoted to a lower one – Sahuarita, Rio Rico and Arizona College Prep. Arizona College Prep (5-5 in 2021) and Sahuarita (1-8) are petitioning to move from 3A to 4A, while Rio Rico (0-8) is attempting to stave off being relegated from 4A to 3A.
The AIA's executive board will hear the appeals one by one before coming to a final decision on Jan. 18. The complete list of appealing schools can be found here.