In a world where postponements and last-minute adjustments have become the norm, No. 3 UArizona has adapted accordingly.
After rattling off 11 straight wins to start his head coaching career, Tommy Lloyd and the Wildcats got their first taste of adversity when they fell to No. 19 Tennessee by four.
Two out of their following five games were postponed due to COVID-19 concerns, including the Territorial Cup.
They still managed to best Washington, Colorado, and Utah by an average win margin of about 18 points per contest.
"It is what it is," Lloyd said. "It's a complicated deal. You get schedules done ahead of time. There was no COVID cushion built in."
The long road trips throughout the season have brought the guys closer together.
"It was pretty fun to have team dinner [for the first time] in a long time," guard Bennedict Mathurin said. "We've been doing a lot of stuff just to create team bonding."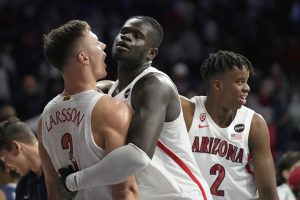 That chemistry has shown on the hardwood.
"Travel issues heading to Illinois might've actually helped us," Lloyd said. "There's nothing wrong with having a cause or situation to rally around. There's lots of ways to bring guys together and help them reconnect. In difficult circumstances, it helps."
It wasn't the first time they've dealt with changes this year and it won't be the last.
When they head to Stanford this Thursday, they'll face the Cardinal without Nerd Nation in the stands.
"I'm pretty used to it from last year," Mathurin said. "If there's fans or no fans, it'll be the same mentality for me and my team."
As they prepare to face a Stanford team that's won four of its last five games, the Wildcats aren't overcomplicating the formula.
"I always remind the guys," Lloyd said. "We don't need perfect plays. We just need to accumulate a bunch of simple plays. I'm not looking for perfect decisions, I'm just looking for a bunch of simple decisions that add up. If you make more good simple decisions than your opponent, you have a good chance of winning."
As they sit atop the Pac-12 boasting 14 wins and just one loss so far, expectations in Tucson balloon with each victory.
Their date with the Cardinal tips off Thursday at 9:00pm.