Mercury fans are accustomed to a certain standard.
In the last eight seasons, their franchise has won a WNBA title and made several deep postseason runs.
For the first time since 2014, there will be a new head coach on the bench for Phoenix, and Vanessa Nygaard made it clear that her standard is just as high.
"When I looked at the commitment to winning here, the resources from ownership, the partnership with the Suns, and the roster in place, I knew this was where I wanted to be," Nygaard said. "The goal here is to win championships, and I look forward to getting this team back to the top of the WNBA mountain."
From her playing days of leading Stanford to three Final Fours followed by six seasons in the WNBA to 19 years of player development work as a coach, she earned her place on Bill Laimbeer's coaching staff in 2021.
Nygaard helped lead the Aces to the league's second-best record but despite their high-powered offense, their playoff run was ironically cut short by the Mercury.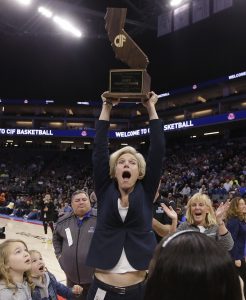 After speaking with "more than a dozen coaching candidates," General Manager Jim Pitman explained why the organization felt Nygaard was the right choice.
"We were looking for a teacher of the game, a master tactician, and someone with the temperament to lead a roster that mixes veteran experience with youthful potential, that has championship aspirations every season," Pitman said. "We found that coach in Vanessa, whose enthusiasm for building relationships and holding players to the highest standards separated her in this process. Beyond that, she is committed to growing the women's game on and off the floor in Phoenix and wants to be a part of the Valley basketball community year round."
If Diana Taurasi decides to return, there isn't a much better trio to have on your first roster as a head coach than DT, Brittney Griner, and Skylar Diggins-Smith.
While there are still questions regarding how the roster will look at the start of training camp, one of the biggest questions of the summer has officially been answered.