By Bruce Cooper
With the new league year set to open on March 16, the Cardinals have a busy offseason ahead of them. To make it a successful one their offseason should be defined by one word; "familiarity" particularly as it relates to free agency. The Cardinals have 21 unrestricted free agents. There are 11 they should look to re-sign:
QB- Colt McCoy
RB- James Conner
WR- Christian Kirk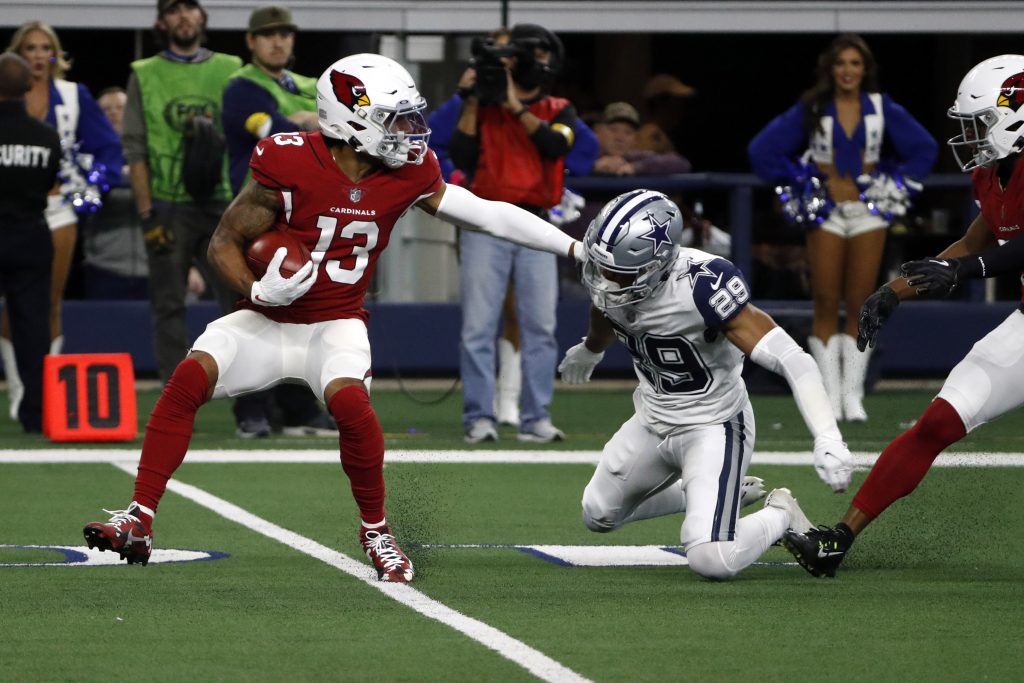 TE- Zach Ertz
TE- Maxx Williams
DL- Corey Peters
LB- Dennis Gardeck
CB- Antonio Hamilton
S- Charles Washington
LS- Aaron Brewer
P- Andy Lee
The Salary Cap for 2022 is projected to increase nearly $26-million to $208-million per team. Still the Cardinals need to free up more cap space to adequately address their team needs. With that said their biggest decision involves letting edge rusher Chandler Jones walk or sign to play elsewhere. Also by cutting starting left guard Justin Pugh they can free up $9-million. Additionally, they can save $4-million by releasing defensive lineman Jordan Phillips. One final big decision is cutting loose starting left tackle D.J. Humphries which will save the Cardinals $15-million in cap space.
March 14 teams are able to talk to other free agents. And here's where the word "familiarity" comes into play. There are four unrestricted free agents with ties to the Cardinals organization that should be signed to the 2022 roster:
OLB- Haason Reddick- former Cards 1st round pick has 22 sacks since 2020. He's a cheaper replacement for Chandler Jones. The deal; 3-years $36-M with $19-M guaranteed.
DL- Calais Campbell- former Cards 2nd round pick. Campbell will be 36 years old next season but he has proven to be both durable and productive. Campbell slotted with J.J. Watt and Corey Peters would provide a stout and experienced defensive front capable of defending the run and rushing the passer. The deal; 1-year $11M fully guaranteed.
CB- Sidney Jones- Jones was a starting corner for the Seahawks last season and is a former college teammate of Cards safety Budda Baker. Jones and Baker were 1st team All Pac-12 performers. Jones is a former 2nd round pick of the Eagles in the 2017 draft. The deal; 3-years $12M with $5M guaranteed.
WR- Will Fuller- Fuller is a former teammate of Cards receiver DeAndre Hopkins. Fuller brings game-breaking and game-changing speed. Together Fuller and Hopkins helped Deshaun Watson develop into one of the games top quarterbacks. Fuller, however, is often injured and played only two games last year with the Dolphins. Fuller's speed commands attention and frees up others. He needs to show he can stay healthy and will have to play on a moderate prove it to me contract. The deal; 1-year $6M with 4M guaranteed.
WR- Allen Robinson- Robinson makes contested catches, has solid hands but is vastly underrated due to poor quarterback play in Chicago. The deal; 3-years $48M with 30M guaranteed.
The NFL draft will be held in Las Vegas, April 28-30. The Cardinals do not have the full complement of draft picks but are expected to gain three compensatory picks. Our mock Cardinals draft looks like this:
ROUND PLAYER
1 Nicholas Petit-Frere- OL- Ohio St. (6'5, 315 started at right tackle in 2020. Started at left tackle 2021. He's a long fluid athlete with good footwork and excellent in pass protection.)
2 Darian Kinnard- OL- Kentucky (A massive man at 6'5, 345. Powerful with surprising mobility. Can play both inside and outside.)
3 Rachaad White- RB- Arizona State (Great lateral movement without losing speed. He's the best pass receiving back in the draft. Replaces Chase Edmonds on the roster)
4 (No pick Marco Wilson 2021 draft pick)
(***Cards trade 2023 3rd round pick to Falcons for 2022 4th round pick***)
4 (From Falcons) Tyler Allgeier- RB- BYU (Powerful downhill runner. Excels in short yardage and goal line. Good hands. Provides depth and insurance should James Conner miss time)
5 (No pick Zach Ertz trade)
6 D.J. Davidson- DT- ASU (6'4, 325 powerfully built, great leg drive. Solid against the run and can collapse the pocket against the pass)
6 (Compensatory pick) Jeremiah Moon- OLB- Florida (6'5, 250 active pass rusher with good size and great length) 7 Damion Daniels- DT- Nebraska (6'3, 325 another big body for the middle of the line. Stopping the run a Cardinals priority)
7 (Compensatory pick) Mario Goodrich- CB- Clemson (6'1, 190 good athlete, good vision and willing tackler in run game)
7 (Compensatory pick) Marcus Jones- CB- Houston (5'8, 185 small size an issue at corner in NFL but is a dynamic return specialist. 8-career returns for touchdowns)