The Cologuard Classic is set to tee off on February 25 at the Omni Tucson National Resort.
In 2022, there will be a 78 PGA player field.
Among those 78 are Cologuard Ambassador Jerry Kelly and 2021 Cologuard Classic champion Kevin Sutherland. This year's event holds significance in both of their hearts.
In 2020, Kelly lost one of his bestfriends to stage four colon cancer. Rob Andringa was a national champion in hockey at the University of Wisconsin. He competed in the Cologuard Classic with Kelly during his two and a half year battle with cancer.
"At 48 years old he was diagnosed with stage four," Kelly said during media day. "If he had met us possibly earlier, he'd still be here today because this is a very catchable disease at early stages."
During the tournament, Andringa's wife Christi and son Jack will accompany Kelly.
This tournament's goal is to help spread awareness for colon cancer screening procedures, such as Cologuard. That message stuck with Tucson resident Scott Cardwell. He was screened after attending a Cologuard Classic. His doctor found a tumor, and luckily was able to have it removed along with 25 lymph nodes. He's now cancer free and will be competing with Sutherland during the Pro-Am portion of the event.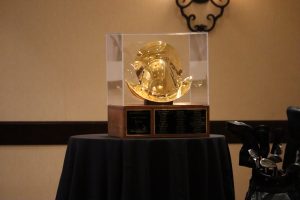 "It inspires people to get tested," Sutherland said when asked about Cardwell's story. "We can see how important early diagnosis is. That's what Scott's story shows… It makes you feel good about playing here and it really does change people's lives."
The 18th Hole
A new twist for the 2022 Cologuard Classic is the name of the 18th hole. It is now called the "Drive to Know" hole. Exact Sciences, makers of Cologuard, will donate $1 per yard that a tee shot travels if it hits the fairway. The donations will be used for local colorectal cancer screening efforts.
Throughout the tournament there will also be a concert, headlined by country singer Jake Owen, a celebrity challenge tee-off, and a retro day party. For the full schedule click here.