Football players have personality. Sport360AZ was there to capture a few glimpses of that this year.
In its fifth year, we present the Best High School Football Celebration GIF Award field. 16 GIFs from 16 teams. It's a bunch of celebration, a bunch of personality, and that fun is one of the reasons we all love high school football so much.
Before we look at the field, let's revisit our past winners:
2015 – Bozton Sanders – Centennial
OK….so this GIF actually sparked the idea of this award. Sanders never actually had to beat any other nominees for it, but creating the inspiration for this whole dang thing means he wins the honors for 2015.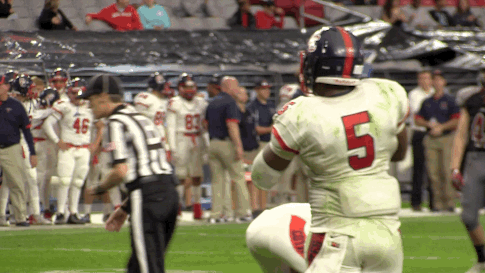 2016 – T.J. Green – Chandler – "The State Championship Shuffle"
Green capped off a 2,000 yard senior season with a state championship ring. He only wanted one dance partner that night, and that was the 6A title trophy.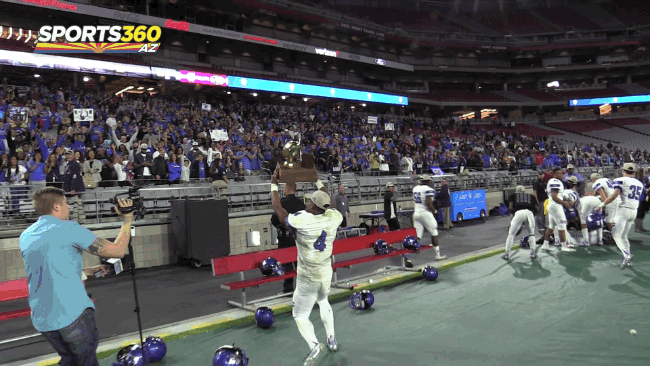 2017 – Brock Purdy – Perry – "Are You Not Entertained???"
Purdy wasn't known for showing too much emotion, good or bad, while on the field. But the 2017 state title game brought something out of him. After rushing for the game's opening touchdown (he ended the night with six scores) the Perry quarterback ran to the Puma student section to show them some love too.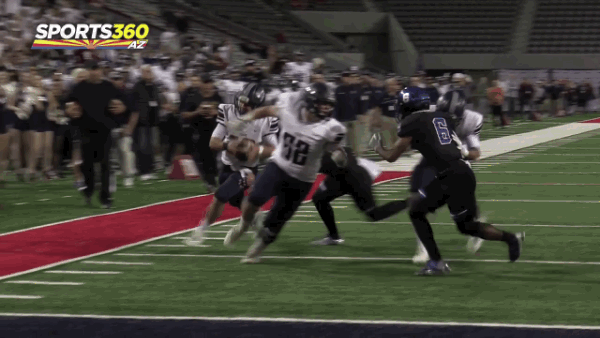 2018 – Ty Robinson & Truitt Robinson – Higley – "Brothers Gotta Hug"
Many know Higley defensive lineman and All-American Ty Robinson. But in this GIF, he was giving some love to younger brother Truitt, who – oh I don't know – took a 73-yard reception in for a touchdown to earn a playoff win. There's so much brotherly love in this that I may need to call Joey Lawrence.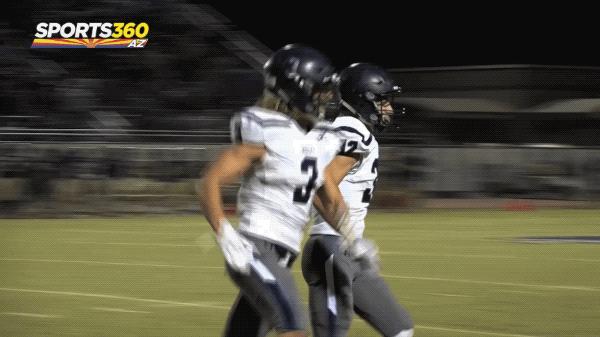 2019 – Brenden Rice – Hamilton – "Rivalry Pump Up"
Brenden Rice always shows his passion on the field and didn't need any motivation when Hamilton took on rival Chandler in his senior season. This reaction came after his second touchdown of the night.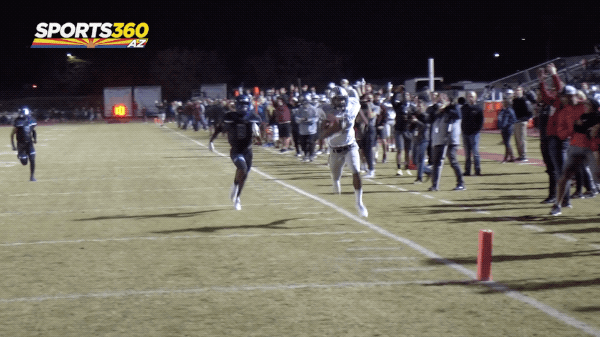 2020 – "This is gonna be funnnn" – Cole Martin – Hamilton
One of the most impressive things about elite players is their ability to stay loose during the season's biggest moments and biggst games. That's exactly what Cole Martin was doing as he was gearing up to return a kick in the Open Division championship. And if you saw the way Arizona Cardinals Special Teams Player of the Year returned kicks and punts this year, you'd want to dance too.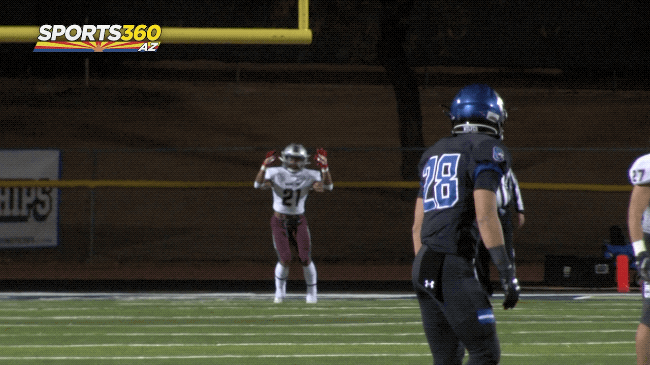 We now present this year's field, and the order has been selected at random:
Group 1
"Teamwork Makes the Dream Work "Cole Martin & Demond Williams – Basha
We start with Martin, the defending champion of this award, to kick off the field. New year, new team, same moves for the defensive back. In this iteration, he teams up with quarterback Demond Williams in some pregame choreography. This Basha team was not short on options when it came to pregame and celebation moves.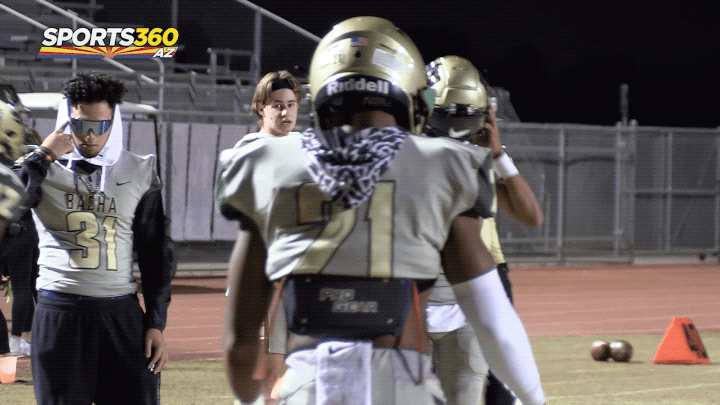 "Friendly Fire" – Russell "Deuce" Davis – Hamilton
Davis delivered plenty of big hits on opponents this year, but in this case, it was delivered on teammate Chandler Davis. But after beating your rival for the first time since 2012? Worth it.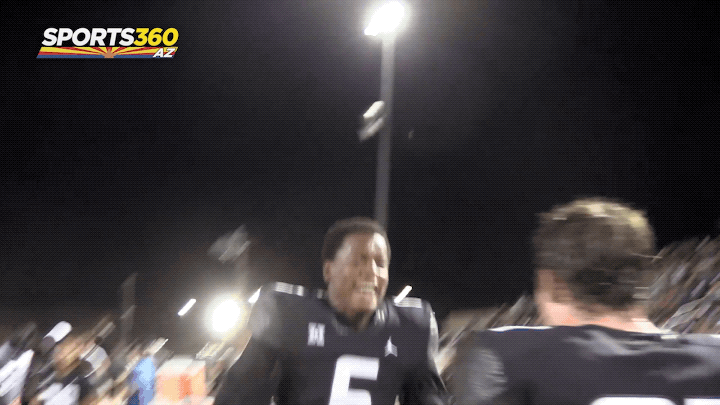 "Mr. Do-It-All" Zac Swanson – Brophy
Swanson is one big dude. The Brophy defensive lineman and Texas commit is also fleet of foot as he shows off his speed after blocking a punt in the regular season.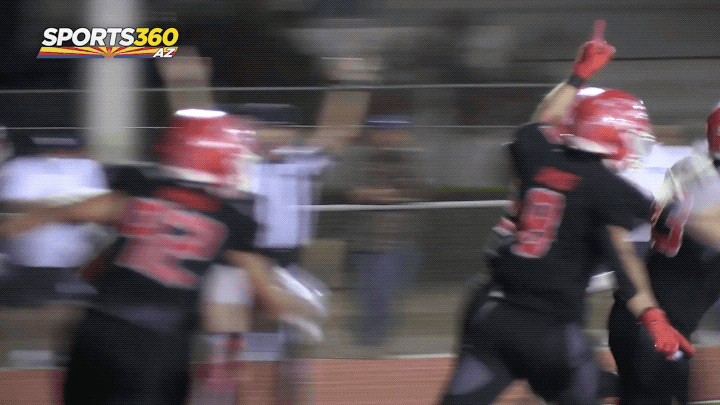 "The Stam Stomp" – Jax Stam – Liberty
Jax Stam has made so many big plays in his career, it feels like he's been beating players up for the Lions for like eight years now. Here he is walking it out after a hit in the backfield.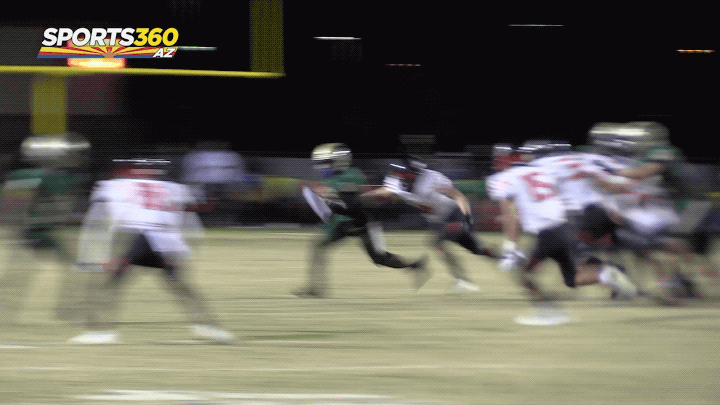 Group 2
"The Victory Formation Shuffle" – Quaron Adams – Chandler
Adams is known for being elusive on the gridiron, breaking big plays and being the home run hitter for the Chandler Wolves. After a hard-fought win against Queen Creek, Adams showed that applied to his dance moves as well.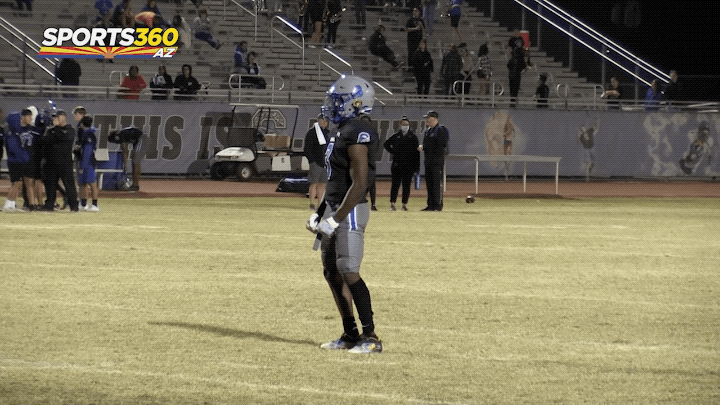 "Man of the People" – Terrance Hall – Mountain Ridge
Hall was a bit of a superhero for Mountain Ridge this year, with over 1,200 receiving yards and hauling in 18 touchdowns. He looked even more like a Man of Steel when he gave some love to some young fans after a touchdown.
"Eight for Six" – Javen Jacobs – Saguaro
Jacobs was one of the most dynamic athletes in the 2021 season. Here he had to strike a pose to let his teammates catch up after a big kick return for a touchdown.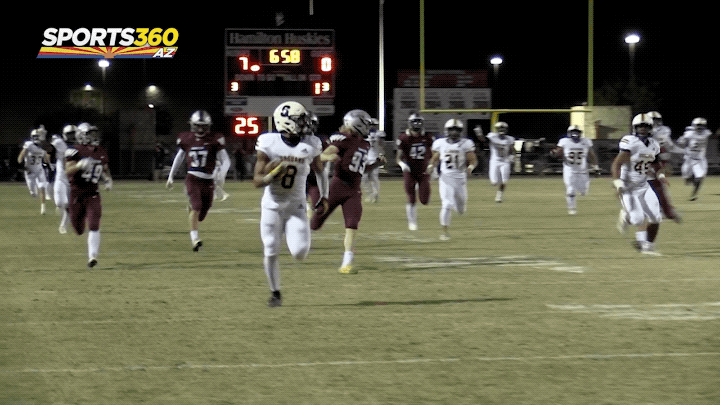 "Officially Official" – Derrick Kuykendall & Luke Luna – Casa Grande
Casa Grande has waited a long time to be named state champions. After Friday's win to seal it, these Cougars wanted to make sure their fans got official word.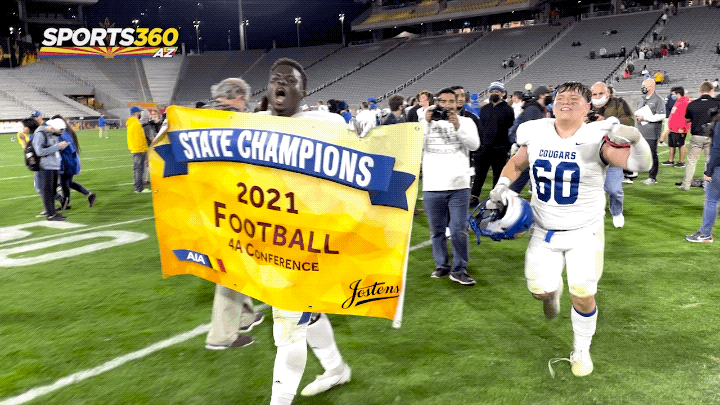 Group 3
"Money" – Anthony Lucas – Chaparral
The top recruit in Arizona's 2022 class has shown plenty of personality after big hits and getting prepped for his Friday night games. Much like this move, he's been money for the Birds the past few years.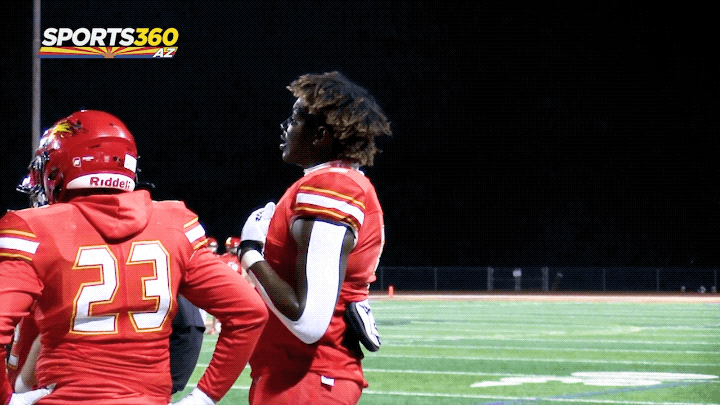 "No, no, no" – Elijah Rushing – Salpointe Catholic
Elijah Rushing and this entire Lancer defense denied opponents throughout the 2021 season. Here's Rushing giving a reminder after a big stop in the regular season.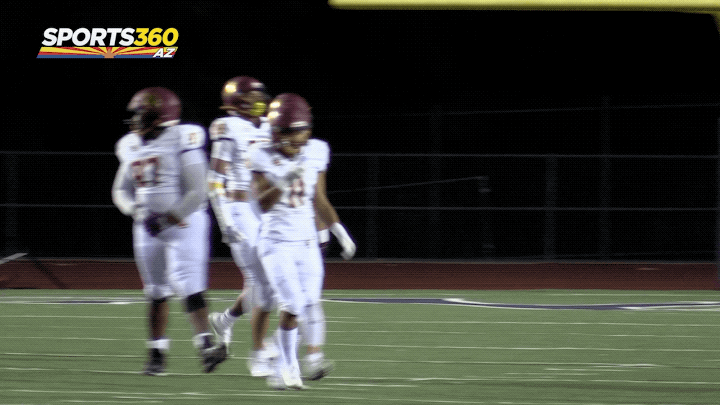 "We Just Sealed State Relief" – Steven Trujillo – Highland
There's a sense of relief for some teams when they pull off a key play to all but seal a game, especially a state championship. After an incredible catch and run to put Highland up by multiple scores in the state championship, you could see that almost instant relief for the Highland skill players.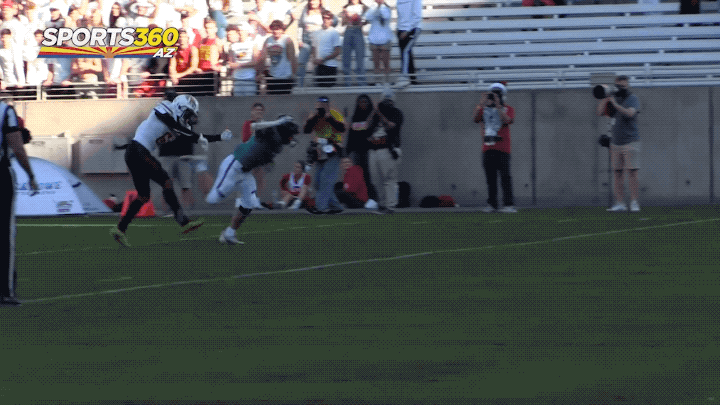 "Pregame Boogie" – Max Bray – Red Mountain
I was honestly caught off guard how quickly Bray flipped from pregame rep to dance moves before RM's matchup against Higley. But when the dance moves hit ya, you have to answer.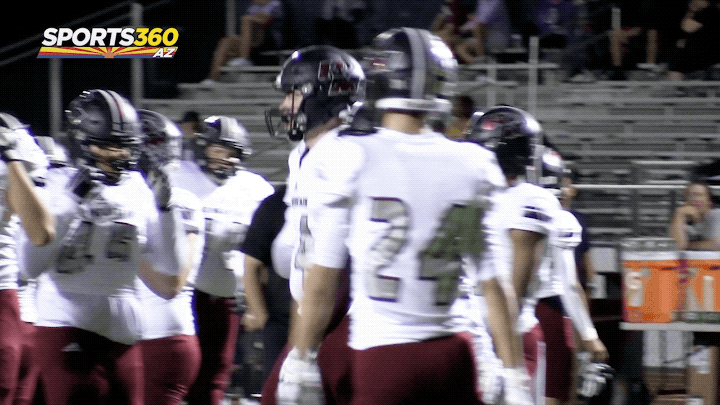 Group 4
"Heel *click*" – Sa'Kylee Woodard – Canyon del Oro
You don't mess with pregame rituaals, and the big man from Canyon del Oro needed to make sure he got was staying loose before a regular season matchup.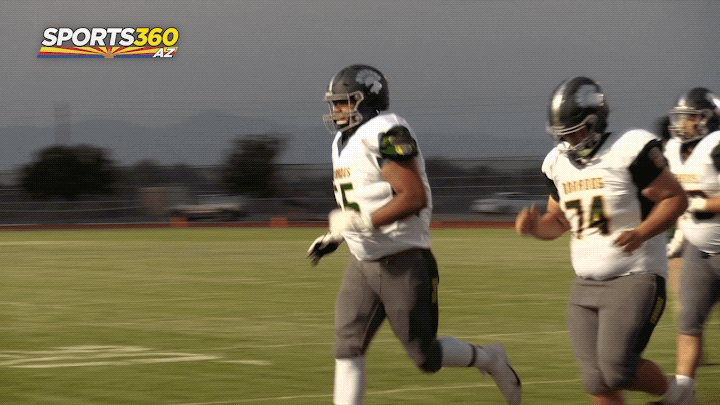 "Youuuuuuuu" – Jackson Bowers – Mountain View
There were plenty of times this year were Toro fans would point out Jackson Bowers and all the big plays he made this year. Here he is pointing back after a touchdown.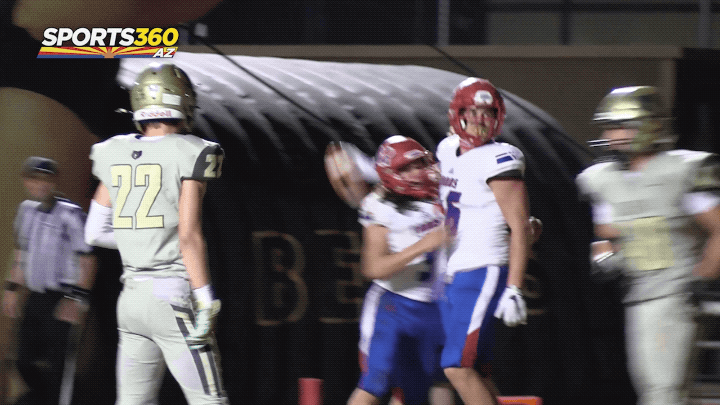 "Lift Off" – Kyler Kasper – Williams Field
The Black Hawks flew all over the field through their potent air attack this year, and Kasper was a big part of that. This Black Hawk took flight after a long touchdown from quarterback CJ Tiller.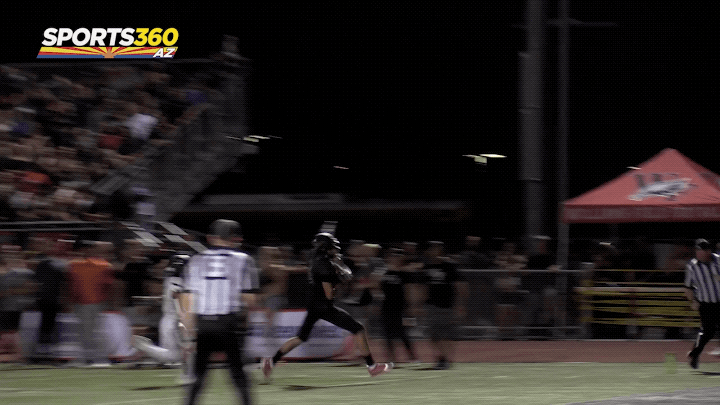 "Mr. Brightside" – Daniel Santiago – Horizon
"Boobie" Santiago only goes one speed. Apparently that applies on the sideline too when a certain banger by the Killers comes on during a state championship game.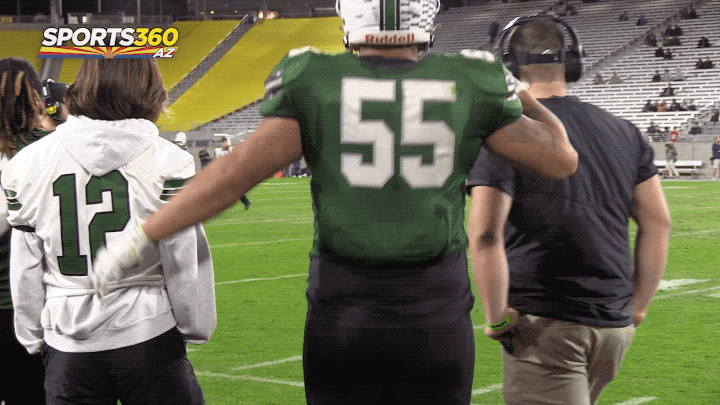 Those are the 16. Make sure to rock the vote for the best celebration GIF from 2020. Below are the tweets with the groupings. Once voting has completed, the final four will be revealed and voted on.
Who had the best celebration GIF from Group 1?

VOTE FOR EACH GROUP: https://t.co/59TakfT2VW

— Sports360AZ (@Sports360AZ) December 14, 2021
Who had the best celebration GIF from Group 2?

VOTE FOR EACH GROUP: https://t.co/59TakfT2VW

— Sports360AZ (@Sports360AZ) December 14, 2021
Who had the best celebration GIF from Group 3?

VOTE FOR EACH GROUP: https://t.co/59TakfT2VW

— Sports360AZ (@Sports360AZ) December 14, 2021
Who had the best celebration GIF for Group 4?https://t.co/59TakfT2VW

— Sports360AZ (@Sports360AZ) December 14, 2021