Story by Dominic Stearn
The Poston Butte Broncos will be making their 4A championship debut after defeating Glendale 41-20 last Friday. They are excited for the chance to get to play at Sun Devil Stadium with a ring on the line.
For the Broncos, an 11-2 record solidified them as the top seed in the 4A division. However, the top-seeded Broncos nearly fell in the first round to Northwest Christian.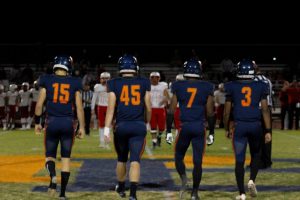 "I truly believed that in the 4A conference, the entire pool of 16 was capable of winning a first round game," Poston Butte head coach Dain Thompson said.
After the early scare, the Broncos rebounded and dominated their quarterfinal and semifinal matchups to find themselves in the championship.
"We refocused on ourselves, and I think that helped us significantly in the last two rounds," Thompson said.
Leading up to the championship, the entire school is feeding off the football team's run this year. They will be well represented at SunDevil Stadium.
"The players, the coaches, and the entire school and community are all completely invested," Thompson said. "The players are completely focused on the process that got us this far; focus."
Poston Butte will face Casa Grande Union High School. Thompson says it will be important to limit their high powered offense by winning the turnover battle and keeping them off the field.
The 4A championship will kick-off at 4:00 p.m. Friday.