Taking care of business in non-conference play is one thing.
Absolutely dominating is another.
The No. 11 Wildcats are 6-0 going into Pac-12 play and are showing impressive chemistry early on.
"We all started clicking together and just became a family, because we knew there's something here that we could do to bring Arizona back," redshirt junior forward Kim Aiken Jr said.
First-year head coach Tommy Lloyd appreciates his team's trust through this process.
"They're doing a really good job taking coaching," Lloyd said. "When we tell them something's important and we need to work on this, they seem to understand that and make it a priority. I do feel really good about where they're at with how we want to play."
Meshing within Lloyd's system has paid off.
"We have a locker room full of guys that's for each other," Aiken said. "When we go out on the court, we're with each other and we're trying to represent Arizona the best way that we can."
That mentality has led to big wins, like taking down No. 4 Michigan in Vegas.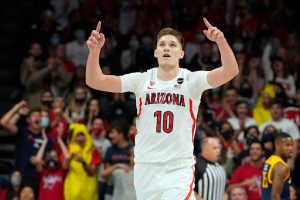 At least four players have scored in double-figures in all but one game so far this season.
"We got nine guys that are really contributing on a consistent basis," Lloyd said. "It's important to value all of them. I try to do the best I can; talking with them, meeting with them, showing them how much I appreciate them."
Pac-12 Play
UArizona men's hoops has averaged about 108 points per game while holding their opponents to an average of just 66, but Pac-12 competition means a clean slate.
Records aside, it's the culture being developed in Tucson that's setting the tone for the long haul.
"Most happy with the overall effort that they've played with," Lloyd said. "We always talk about wanting to be the hardest playing team."
That effort will be put to the test against teams like UCLA, Tennessee, and Illinois before the New Year.
"I'm just looking at our month of December and it's tough," Lloyd said. "This team needs those experiences cause they're gonna serve them well as you get into your January, February, and hopefully your March to the postseason."
Due to COVID-19 impacts within the Washington program, tonight's opener was postponed.