Story by Zach Alvira
The Arizona Cardinals were in desperate need of a bounce-back performance after last week's brutal showing against one of the worst teams in the league in the Detroit Lions.
With the battered, bruised and COVID-stricken Indianapolis Colts in town, it seemed like the perfect opportunity to get the season back on track and finally clinch a spot in the playoffs. But that was quickly proven to not be the case.
Instead, penalties, miscues and an overall lack of discipline led the Cardinals to fall 22-16 on Christmas Day.
"We continue to find ways to lose," Cardinals coach Kliff Kingsbury said. "Critical situations, penalties, things of that nature. We've gotta get it turned around somewhere."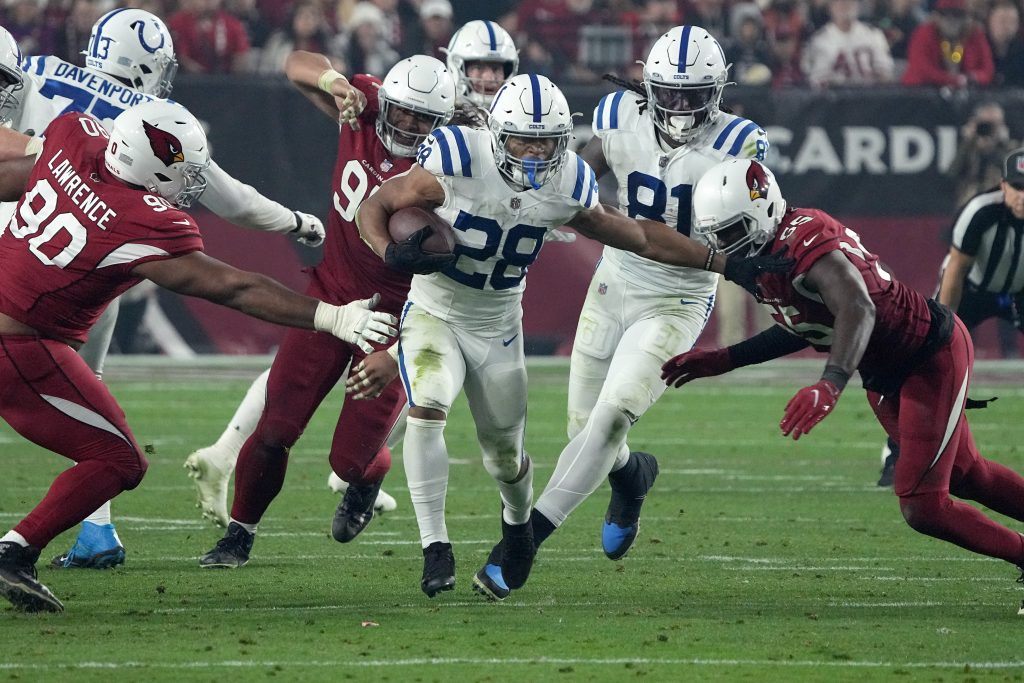 As has been the story for the Cardinals the back-half of the season, simple mistakes proved to be costly.
Arizona was flagged seven times in the first half. Two came against guard Josh Jones that led to stalled offensive possessions. Four were on the defense, a unit that has crumbled at times as of late.
Kingsbury said the Cardinals aimed to slow down Indianapolis running back Jonathan Taylor, who rushed for 108 yards but didn't find the end zone despite the Colts being down to just one starting offensive lineman by the second quarter
After Wentz found Hilton for a 1-yard score, the Cardinals came right back down the field thanks to the legs of Kyler Murray. His 57-yard run led to a 2-yard plunge by Edmonds. But another bad hold by McCoy led to a missed point-after attempt.
Then, while backed up against their own goal line, a low snap from center Max Garcia forced Murray to toss the ball out of the end zone with no receiver in the area. He was flagged for intentional grounding which resulted in a safety. Later, they were unable to convert on a fourth down in Colts' territory.
"Good teams don't do that," said Murray, who finished 27 of 43 for 245 yards and a touchdown. "We weren't doing that early on in the season and now you see it's killing us in crucial moments. We're not scoring touchdowns because of it. As a collective group offensively and defensively it's just … mental mistakes we can't keep making if we want to win these games."
The second half appeared to be the turning point for the Cardinals. The defense, led by safety Budda Baker who recorded his first sack of the season and was all over the field, made several key defensive stops and gave the offense a chance.
For a moment, it appeared they would take advantage as Murray led the Cardinals down a short field thanks to some trickery by Christian Kirk and Byron Murphy on a punt return. The drive ended with wideout Antoine Wesley catching his first career touchdown pass from Murray to put the Cardinals out in front.
The Colts were forced into a field goal after another defensive stop by the Cardinals. Then Prater missed another field goal off the right upright. This time without any issues on the snap or hold.
Wentz, who finished 18 of 28 for 225 yards and a pair of touchdowns, led the Colts down the field to put them up two scores. Arizona had a chance to trim the lead but again failed to convert on fourth down after a penalty-riddled drive. The Cardinals were flagged 11 times for 85 yards in the game.
"Definitely frustrated for sure," Baker said. "Especially how we lost today. Self-inflicted wounds, you know. Little things like false starts, offsides, roughing the passer, pre-snap things and post-snap things as well … things like that is definitely frustrating."
With the loss, Kingsbury falls to 0-5 in potential playoff-clinching games dating back to last season when they needed help from other teams. Three of those have come during the Cardinals' skid in losses to the Rams, Lions and now Colts.
All hope isn't lost just yet for the Cardinals. They can still clinch if one of a variety of different scenarios take place Sunday in other NFC games. But putting one's fate into the hands of another is far from an ideal scenario.
"We're looking at ourselves, looking in the mirror and figuring out what we have to do," Kingsbury said. "Right now, it's not good enough to be the team we know we can be."