Story by Dominic Stearn
After finishing the regular season undefeated, the Basha Bears are prepped for a run at the Open Division title. Headlined by some of the top recruits in the state in Demond Williams Jr., Deshaun Buchanan, Bryson Dedmon, and Cole Martin, Basha expected this prolific season.
"I knew that we were going to have a couple of tough games that we were obviously going to have to play good football to win," Basha head coach Chris McDonald said. "We felt as a staff that we had a good opportunity to be in this position."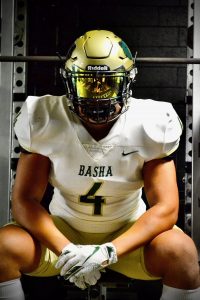 Not only is Basha undefeated, but they also didn't play a single one-possession game in any of their wins. Most of them were several possessions and decided at halftime. The Bears scored a whopping 452 points, while allowing just 126.
"We just try to win every play," McDonald said. "It doesn't matter if it's the first, second, third, or fourth quarter, or what the score is, the idea is to just win every play."
Both units for Basha are amongst the best in the state. McDonald would not say which unit he thinks is better, but he did mention how they complement each other.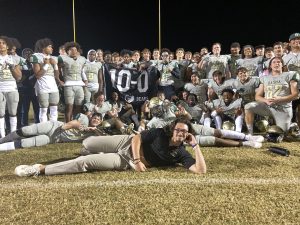 "I would say that each unit has helped each other out in terms of field position," McDonald said. "Our kicker is putting the ball in the end zone so they have to start at the 20. When you've got a punt returner like Cole Martin, I can't tell you the amount of times he's returned a punt that left a short field for the offense."
Basha's regular season ended before every other team in the 6A Division. Oddly, they were assigned a week 11 bye, so Basha played ten games without a week off.
"The kids are excited and we went at it for 16 weeks straight," McDonald said. "We need to have the opportunity to recharge and refocus for the postseason."
There is also a week off for the teams that make the Open Division, so Basha will get two weeks off before their playoff game. The Bears will be a must watch when they face some of the other best teams in the state.