Story by Timothy Iannello
Former Arizona State University Sun Devil and current Grand Canyon University Antelope Denae Chatman is set to face her former team on Friday, November 4 in Tempe. Chatman
spent the past four seasons at ASU and transferred to GCU after the 2021 season. This will be
the first time Chatman is tasked with facing her former team and is excited about the
opportunity.
"I'm really excited. I mean, it's always fun to play against your friends," said Chatman. I think it gives you a little bit more of a competitive edge and it'd be fun to talk about it after too."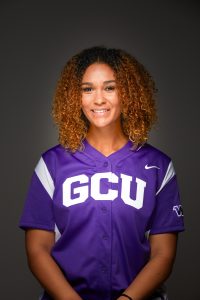 During Chatman's career at ASU, she held a .279 batting average, 35 home runs, and 115 RBI,
in her 152 starts. She is thrilled to go back to where her journey began four years ago.
"I think I'm just excited to be back in that atmosphere of ASU. It's gonna be cool, bring back all the memories and be a little different being on the other side, but I'm just excited," said
Chatman. "I mean, I'm always going to be a Sun Devil, but it'll be fun."
ASU will always hold a special place in Chatman's heart and there is one moment that she will
never forget from her time as a Sun Devil.
"My biggest memory would be when we went to the World Series my freshman year and hitting the first home run of the tournament. That's for sure my favorite memory." said Chatman.
DeNae Chatman goes YARD. #WCWS pic.twitter.com/XNPP0gpMMJ

— NCAA Softball (@NCAASoftball) May 31, 2018
Transferring to GCU gives Chatman more than just the opportunity to continue her softball
career, she gets to stay in Arizona where she has lived her whole life. This played a big factor in her decision to transfer to GCU.
"I think I did want to try going out of state, but I think it made too much sense to stay. There's
too many good things happening here for me, and I wanted to stay home and just represent
Arizona."
Chatman is ready for her new chapter with her new team and the challenge they face on Friday night against her former school.