The Morenci Wildcats (10-2) are within striking distance of a 2A state title, thanks in large part to a dominant rushing attack that has accumulated over 3100 yards and 43 touchdowns this season. Sophomore running back Michael Casillas has established himself as the anchor of Morenci's ground game in his first year as a full-time starter, pacing the team with 1759 yards and 24 scores while also starting at linebacker.
"The good thing about Mikey is that he's humble," head coach Joe Garcia said. "He comes from a good family that keeps him humble. He doesn't pump his chest, he doesn't rest on his laurels. He's always hungry and he'll be the first to tell you that all this success is a team thing."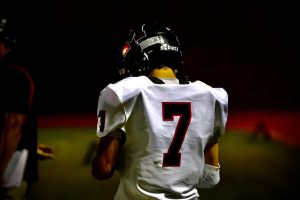 For Casillas, playing football at Morenci was a birthright of sorts. His father also starred at running back for the Wildcats, while his brother, Ruben "Tito" Casillas, was an accomplished receiver and safety from 2015 to 2019 and currently serves as an assistant on Garcia's staff. Casillas says that his family has been heavily involved in his progression as a player, and that having his brother on the sideline helps keep him as focused as possible.
"He's straight up with me," Casillas said. "If he sees me doing something wrong, he'll tell me straight up, he'll set me straight, so it's good to have someone there on the sideline like that."
Due to his family's ties to the program, Casillas was on Garcia's radar long before he suited up for Morenci, and the coach entrusted him with a large role right away. As a freshman, Casillas finished with 314 rushing yards and six touchdowns, both good for second-highest on the team, and added 23 tackles and a sack on defense.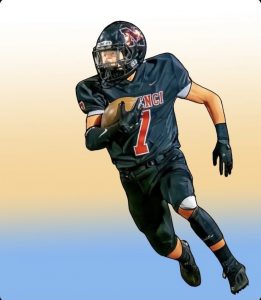 "I've known Mikey ever since he was playing with the little guys," Garcia said. "We are a smaller school, so occasionally we do get freshmen who play (on varsity). Mikey played a lot of linebacker for us last year and scored several big touchdowns, especially in the Bisbee game."
As good as his 2020 season was, Casillas has taken full advantage of his expanded role this season, and has attracted a great deal of adulation from both the Wildcats' loyal fanbase and outside observers. Following a 225-yard, two-touchdown outing in a 33-19 win against Pima on Oct. 29, Casillas was named an Arizona Bowl high school player of the week. Casillas says the attention acts as a motivator to keep getting better.
They played so nice we had to do it twice! Congratulations to Mikey Casillas of Morenci, and Jake Lambert of Empire as our Co-Players of the Week! Both young men played brilliantly on both sides of the football in big time performances. Congratulations Jake and Michael! pic.twitter.com/JFyqrWBvMq

— The Barstool Sports Arizona Bowl (@theARIZONABOWL) November 2, 2021
"My mom always tells me that she can't go anywhere without somebody asking about me," Casillas said. I like (the attention). We have a great support system and I feed off of that."
In spite of all he has accomplished so far, Casillas recognizes that he still has ample room to grow before his high school career comes to a conclusion. With two years of eligibility remaining, he may not even be scratching the surface of his full potential, and he is prepared to do whatever necessary to maximize his on-field performance. Casillas has likely not reached his peak height and weight, but at 5'8 and 150 pounds, he could still be considered undersized. Although he says his wrestling background helps with his strength, he is intent on adding more mass to his frame in the near future.
"There's always a need for something better," he said. "I want to be a little bit bigger height-wise and get to know the game a little more. Just learn as much as I can."
While Casillas' best days may still be ahead of him, his efforts have helped spark Morenci's deepest playoff run since 2012, and the Wildcats will go as far as he can carry them.
—
Casillas and the Wildcats will battle the Parker Broncs for a spot in the 2A state championship game Saturday at 6 P.M. MST at Desert Vista High School.