Story by Dominic Stearn
Following their 49-18 loss to Valley Christian on September 10, the Gilbert Christian Knights football team fell to 1-2 and had been outscored 107-52 to start the season. Since that loss, the Knights turned their season around and are currently riding a seven-game winning streak heading into the 2A division playoffs.
"The players had great perspective in understanding two of those three games were against teams in contention for a State Championship in 2A (Parker) and 3A (Valley Christian)," Gilbert Christian head coach Danny Norris said. "They dedicated themselves to getting better every week and have done just that. I'm very happy with how they have responded these last 7 weeks."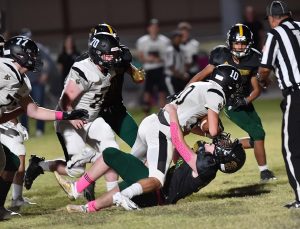 Although it has since found its rhythm, Gilbert Christian's inexperience played a large role in its slow start to the year. The program saw a record-high in roster turnout this season, which also comes with a lot of inexperience. Only 14 out of the 39 rostered Knights players played high school football prior to this season.
"Confidence is high as our team is gaining experience every game," Norris said. "As a coaching staff, it was important for us to stay patient and to continue pounding attention to detail in everything we do."
Gilbert Christian boasts a strong ground attack from running back Elijio Ledesma and quarterback Matthew Hershey, who both average eight yards per carry. While Ledesma and Hershey are seniors, their backup running back, Sam Webb, is just a freshman. He does not play like one, however, as he averages over 11 yards per carry.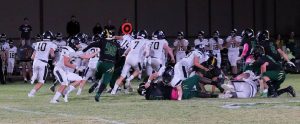 On the other side of the ball, the Knights' defense has held opponents to single digit points five times during the seven-game win streak. This run also included three shutouts. Norris cites Josh Lay, Josh Rich, and Zach Hohmann as some of the defenders who are leading the charge on that end.
Although Gilbert Christian ended the regular season strong, it means nothing now that playoffs are starting. The Knights earned the five-seed in the 2A division by finishing strong.
"Our players are pretty focused right now," Norris said. "They are feeling good about what they accomplished in the regular season, but want to finish this season well in the playoffs."
Norris describes himself as a "creature of habit," so the practice plan for the Knights is not changing leading up to the playoffs. They are getting ready to host the Scottsdale Christian Academy Eagles this Friday. The Eagles went 5-3 this season and are the 12-seed.