Story by Timothy Iannello
The Arizona State Softball team is going to look very different after an impressive 2021 season. The Sun Devils finished 2021 with a record of 33-16 and were second in the Pac-12 in home runs with 95, just one behind University of Arizona's league-leading total. The team lost some experienced players, forcing freshmen and transfer players into the fire.
Two of the biggest losses were fifth year seniors Maddi and Kindra Hackbarth are two of the key losses that the Sun Devils will need to overcome. Maddi was the team's starting catcher and graduated with memorable statistics. She was in second with 20 home runs, 58 RBI and a batting average of .384, tying her for sixth place in the Pac-12 conference. Kindra Hackbarth was the starting center fielder and had the fourth most stolen bases in the Pac-12 with 17 and led her
team in runs scored with 46.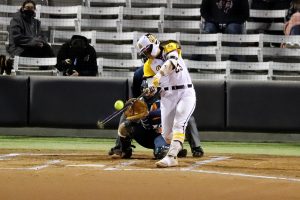 The young and new players have some large shoes to fill, but Coach Trisha Ford feels that her team is ready for the challenge of the upcoming season.
"This year, our biggest thing is, it's not always about replacing. It's about figuring out how our pieces go together this year," said Ford "It's going to look different this year, but I am really excited and pleased. That's kind of where we're at right now."
The Sun Devils were left with no catchers on their roster after Maddi Hackbarth graduated and Harleigh Braswell transferred to Oregon State. The new starting catcher, Jessica Puk, is a graduate transfer from Ole Miss and the backup is freshman Liliana Thomas from Hawaii.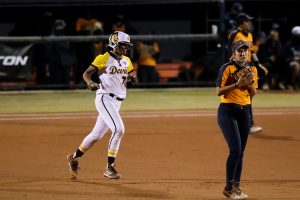 The team's pitching staff also lost a key member, Cielo Meza, who was a fifth year senior. Marissa Schuld, a senior transfer from Arizona, is going to fill in that spot after having to sit out last season due to the in-conference transfer rule. Coach Ford is excited to have her experience in the circle and is confident in her ability to produce at a high level. Freshman pitcher Mac Morgan also has the possibility of being called upon this year and Ford feels that she and the other freshmen are ready for the challenge.
"That freshman class did a tremendous job with that, and just really, you know, they have freshmen moments, and they're going to have freshmen moments, we know this throughout the year, but I would say they're really mature for their age, and really have taken on a more of a just professional approach," Ford said.
Overall, the team lost eight players who contributed to the team's success last season. With many new faces on the roster, there is no telling exactly how the season will turn out. This year's team is looking to do the little things right which will in turn end up in a successful season.