The 3A state championship matchup is set – and for the second straight year, it will be the Snowflake Lobos and the Yuma Catholic Shamrocks battling it out in the title game.
Yuma Catholic punched its ticket to the final with a 31-26 win over ALA-Gilbert North in which standout junior quarterback Richard Stallworth set a new AIA single-season passing yards record, surpassing former Desert Edge quarterback Anthony Hernandez's previous mark of 4,663 yards.
With this pass, Richard Stallworth became the new AIA record holder for single-season passing yards. The previous mark of 4663 had stood since 2013. @Sports360AZ pic.twitter.com/3tQz3VQT3b

— Evan Oscherwitz (@EvanOscherwitz) November 21, 2021
"It's awesome, but I've got to get that ring to complete it," Stallworth said. If we want to win state, we've got to beat the best, and (ALA-Gilbert North) was the number one team (in the playoff bracket). We went out and gave it our all."
The matchup was billed as a quarterback duel between Stallworth, who entered the game with 65 passing touchdowns and 4,449 air yards, and ALA-Gilbert North's Adam Damante, who ranked third in the state with 3,074 passing yards prior to kickoff. Both signal callers were as good as advertised, combining for seven total touchdowns, but it was Stallworth who ultimately got the last laugh and avenged the Shamrocks' 28-25 loss to ALA-Gilbert North earlier in the season.
"We hadn't had a fight in a while, but I don't think that stopped us from realizing how it felt to lose to them the first time," he said. "I think that really helped us in this game and it helped us play great football."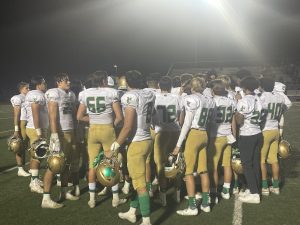 If Stallworth and Yuma Catholic had added motivation to get even with ALA-Gilbert North, they will be even more motivated when they face off against the Lobos on Nov. 27. In last year's state title game, Stallworth suffered a broken collarbone in the first quarter and Snowflake took advantage of his absence to lay a 38-14 beating on the Shamrocks. Unless history repeats itself, the rematch should be much more competitive.
"We want to win state no matter who we play," he said. "I'm looking forward to playing the whole game and showing (Snowflake) what I've got."
As for the Lobos, they exorcised some demons of their own by handily beating Valley Christian, who had gotten the best of Snowflake in the first week of the season. Snowflake trailed 10-3 at halftime before rattling off 41 unanswered points and preventing Valley Christian from even crossing midfield until the final play of the game.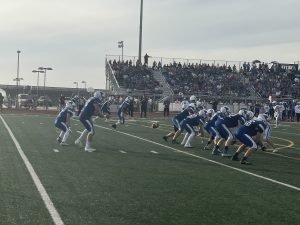 Snowflake's imposing defense created major issues for the Trojans all game long. Valley Christian quarterback Hunter Heeringa was intercepted three times, and vaunted running back Kaden Majercak, who ran for 204 yards and two scores against River Valley in the quarterfinal round, was almost completely bottled up.
Given Snowflake's decisive size advantage in the trenches, Yuma Catholic's title hopes will likely rest on Stallworth delivering another stellar passing performance in the final act of his junior season. Whether he subdues the Lobos through the air, or whether Snowflake's brute force proves too much for the Shamrocks to withstand, the rematch between the two teams is sure to be worth the price of admission.
—
The 3A state championship game will be held Saturday Nov. 27 at Campo Verde High School. Kickoff is 6 P.M. MST.