The last time the Cardinals and Packers played a meaningful matchup against each other was in the 2015 NFC Divisional Round. An overtime thriller that left Cardinals' fans distraught. Since then, Green Bay has been in the playoffs often. The Cardinals are yet to return.
The tides are changing for the Red Sea, who could be 8-0 for the first time in franchise history with a win on Thursday night. To do so, they have to flush a dominant win over the Houston Texans.
"The biggest thing is who is able to recover the fastest," Cardinals wide receiver Christian Kirk said on Monday. "It's a lot of above the shoulder emphasis… You don't really get much practice in, it's mostly t shirt and shorts. We'll just be walking through what we're supposed to do."
Kirk, who's from Arizona and played at Saguaro high school, says he knows the history of these two teams. He remembers being sad when the Cardinals lost to them in the 2015 playoffs.
The Packers also have to deal with short rest. With the quick turnaround, they'll be without leading receiver and perennial All-Pro Davante Adams, who was placed on the COVID-19 list yesterday.
"After just having gone through that, I feel for him," Cardinals coach Kliff Kingsbury, who just returned from COVID-19 on Sunday, said. "But, they're a loaded team with one of the best players ever at quarterback… he's a hard guy to replace but if any team can do it, they're the type of time to do it."
Kingsbury added that game planning for Aaron Rodgers is not fun, especially on a shortened week.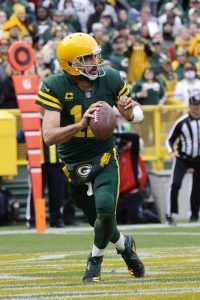 Defensive Mind
This primetime matchup features two MVP-caliber quarterbacks in Rodgers and Kyler Murray. While that could lead to a shoot out, both defenses are preparing for a close game with possibly less points than fans expect.
The Cardinals have scored 30 plus in six of seven games. However, this Green Bay defense could be the most solid they've faced to this point.
Cardinals linebacker Jordan Hicks is eager for the challenge of facing Rodgers.
"It's business as usual," Hicks said. "All we're focused on is ourselves really. At the end of the day it doesn't matter who lines up on the other side, it's about us."
The running game, led by Aaron Jones, is a heavy focus for Hicks and the rest of the defense this week. They know that slowing down Jones gives them a slightly better chance against Rodgers.
Other Notes
Part of the accelerated turn around for the Cardinals' success so far is due to leadership. Many in the media point to JJ Watt and AJ Green, but Kirk and Hicks both say there's a lot of voices in the locker room. This is a collective effort they haven't seen before. It's too easy to say it's one or two guys leading the charge, but that's not reality.
That collective leadership was evident the previous two weeks, with Kingsbury and others out due to COVID-19.
"I think it's ownership," Hicks said. "I think good teams have ownership throughout the locker room. The things that take place on the field, the coaches don't necessarily have to correct, it gets corrected within."
Despite having the fourth best scoring offense in the league (32.2 PPG), players feel they're leaving points on the field. Kirk added that he thinks this offense is close to reaching its potential, but there is still work to be done.
The addition of Zach Ertz is exciting for Cardinals players and fans alike. Hicks says that Ertz actually stayed with him during the offseason. Fun Fact: Ertz's wife and U.S women's soccer super star, Julie Ertz, is a native of Mesa, Arizona. Fitting destination for him.
In 2015, the home of the Cardinals was not named State Farm Stadium. It's a name that Rodgers is already having fun with ahead of Thursday night.
Packers QB Aaron Rodgers was just asked about his games at the Cardinals' stadium, which since his last game has been renamed State Farm Stadium.

"Great name. … I don't know if Jake's going to be there."

— Kevin Zimmerman (@KZimmermanAZ) October 26, 2021
Kickoff is at 5:20 p.m. on Thursday. Two power house teams are ready to put on a show.