It's early! Or, is it? Final score, 37-20 Cardinals win over the Rams. Arizona is now 4-0.
Defense wins games in January and February. Vance Joseph's players made a strong statement on an early Ocotber Sunday afternoon, holding the Rams to just 20 points and only 26 minutes of possession(Rams last TD was in garbage time). It's easy in our biz to point out what happens on offense, but this team can go a long, long ways if the defense continues to show out like they did against the Rams. Outside of the offense having a poor first series of the game, Kyler and company ran away and hid.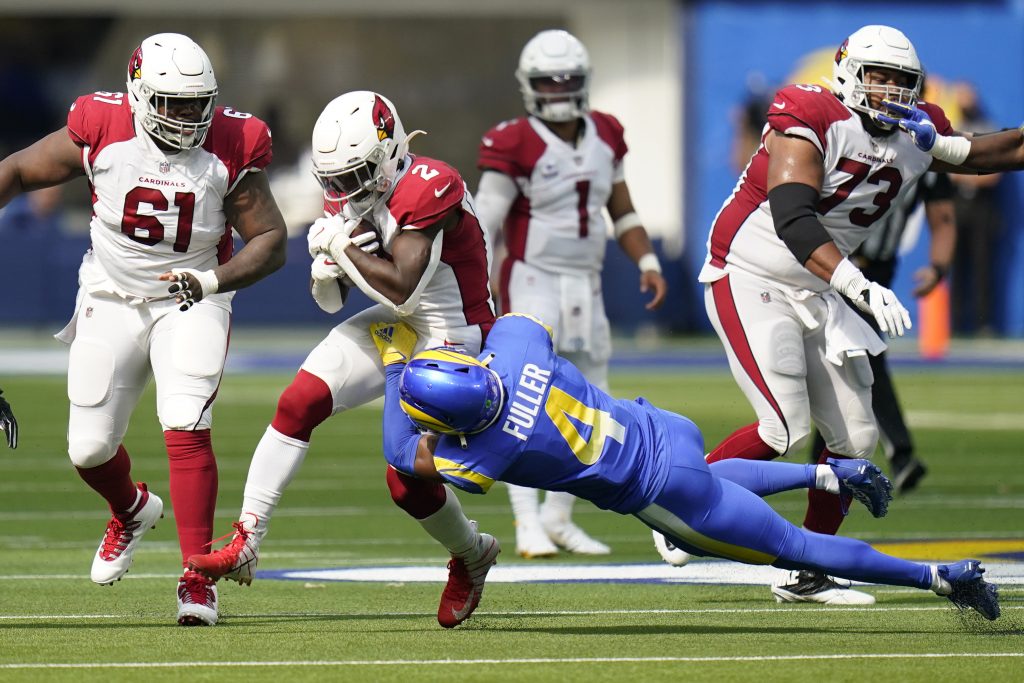 I wasn't at the game, but growing up in So.Cal, I can only imagine how many fans hit Muscle Beach in the third quarter. To me, it felt like the Cardinals were in control all afternoon…
Without the shadow of Larry Fitzgerald, does Kyler Murray feel like this is 100-percent his team? Remember the consecutive catch streak, the constant quesitons of whether of not Fitz would be playing his final games in a Cardinals uniform? None of that exists now, and the offseason additions of A.J. Green and Rondale Moore have made the quesiton about Fitz moot. I hear his son will likely play football at Brophy Prep next year. I don't know if he signed his retirment papers with the NFL. I'm still of the opinion that he's going to show up on a roster somewhere later in the season on a contending team that needs WR help. I believe that with the 4-0 start the Cardinals look like a team that could be making a postseason appearance. I'm not forgetting Fitz back in Arizona just yet. It all depends on the injury game. ..
Saturday night at the Rose Bowl was the best win in the Herm Edwards era(Michigan St. wasn't a conference game). While Arizona State still has a penchant for penalties and just flat dumb moments, I'm not going to take away what the final score showed.
Blitzing the Bruins with 43 points will grab the headlines, but I was more impressed with the showing by the Sun Devil defense, which gave up a ton of yards(432 yards), but had a bend-don't-break performance. It's all in front of Arizona State. Missing out on the Pac-12 South title now would mean that Edwards's team would have to stumble against Utah, USC, or Arizona. I can see the game against the Utes up in Salt Lake City as the toughest remaining environment for the South crown…
I dropped in on the Phoenix Mercury early Sunday afternoon for their "home" playoff game at Arizona State University against the Las Vegas Aces. The entire Mercury organization deserves a little extra in their paycheck for pulling off a terrific enviroment for a playoff game without a hitch. Add to that, on that court, the Mercury dominated Las Vegas. I'll tell my grandkids someday(not anytime soon) that I saw Diana Taurasi play basketball. It was cool to see so many DT jerseys in the stands. She's still a "must see"