Story by Timothy Iannello
Greg Baker is a sophomore in his first season at Paradise Honors High School in Surprise. Baker made his first start on Friday October 1st after having to sit five games due to the AIA transfer rule. In his first start he passed for 401 yards, eight passing touchdowns, and tallied 56 rushing yards on only four carries.
Baker spent his Freshman season at Willow Canyon High School but decided to transfer after a coaching and scheme change in the program. He chose Paradise Honors because the system fit his skills better and he had gone to Paradise Honors Middle School which is a part of the high school campus.
"Two games into the season they had to switch coaches and then the new coaches implemented a new scheme which I feel I didn't fit in," explained Baker "So personally, just for me and then coming over here into like an air raid system, it just felt like more of a fit for me."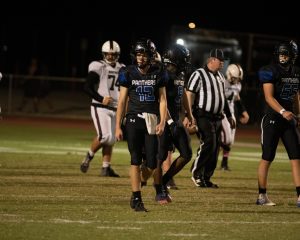 Baker's transition to Paradise Honors was a smooth one. Since he went to the feeder middle school he knew a lot of the players already and they all got along right away.
"We were all starting to get along first day practice conditioning, joking around with the coaches, everything was just super smooth," said Baker.
Practice reps had to split since Baker couldn't play for five weeks, but coach Josh Goodloe thought Baker picked up the system perfectly.
"He's smart so he picked up the offense quick over the summer studying it in huddle in the playbook. So I was confident in what he could do for us," said Goodloe
Goodloe is also proud of who Baker is as a person and student.
"High character kid. Smart football IQ gets in the playbook studies and great grades on campus too, 3.8 GPA around there 3.9" said Goodloe.
Baker is a multisport athlete who boasts a near 4.0 GPA. His other sport is track where he runs the 400m. He doesn't have many other interests outside of football as that is his main focus behind school right now. His goal for his last two years at Paradise Honors is to break all of the division 3A passing records.