Story by Dominic Stearn
Oct. 15 marked week seven of the Arizona high school football season, meaning students who transferred were now eligible to suit up and play for their new schools.
One such transfer is Camelback quarterback Max Martin, who joined the Spartans from Peoria Liberty. The junior quarterback led his new team to a 53-44 over North Canyon in his first game in blue and orange.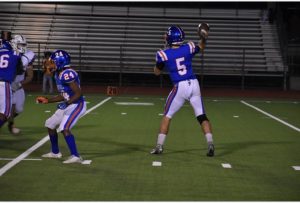 Camelback head coach Brandon McNutt says Martin is " the biggest college football prospect at the school since defensive end Antonio Zepeda signed with UNLV."
Martin appreciates the high praise, but is not focused on that status right now.
"Going into my first game, I knew I would have a lot of pressure," Martin said. "That didn't stop me from getting the job done. After the game I had that very nice compliment and now I'm finally starting to get on the radar. It means a lot to me, but I'm not gonna let it get in the way of what my job is for our team, and that's to win."
When Martin transferred to Camelback, he did not know a single student there. His teammates made the transition to the new school and program effortless.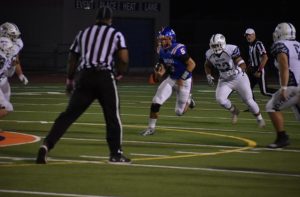 "Ever since I came to Camelback, my teammates have been nothing but supportive," Martin said. "If I'm being honest, I made friends with my teammates pretty fast. I'm excited for a great season with them."
Camelback went 3-2 prior to Martin's team debut and scored no more than 27 points in their first five games. Martin alone outscored his team's previous high in points by throwing four touchdowns and running in back-to-back two point conversions to ice the win. However, Martin knows that the team is far more than him.
"If this team can continue to come together as fast as we are, we will be able to put together a great season," Martin said. "There are lots of guys on this team that I think have the opportunity to get recruited and if we do what I think we are capable of, I won't be the only one getting recruited."
Martin will make his second start for Camelback on Oct. 22 against Maryvale.