Story by Dominic Stearn
A new college has emerged in Gilbert that boasts a soccer program to go with it. Justice College is a private, Christian university at the Grove Church in Gilbert, Arizona. The school was founded by the school's president and the lead pastor at The Grove, Dr. Palmer Chinchen.
"It's always been in Palmer's blood and dreams to start a college, so a couple of years ago, he started down the path," Chandler Yelton, professor at Justice College and treasurer for The Grove, said.
Chinchen's father started three schools similar to Justice College in Africa that provide a Christ-centered learning environment for international students. Not only is school offering an education, but an opportunity for some athletes to continue their soccer careers.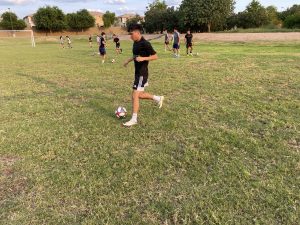 "It means a lot to be able to play soccer at Justice College," team captain Deliverance Mambulu said. "I'm very excited about the vision and how much this team can offer to the community and to the entire state of Arizona. It's a very affordable school, so there are a lot of opportunities."
"It means the world to them," coach Joe Paulsen said. "I've had multiple players talk to me about how they thought it wasn't possible for them, and it wasn't possible financially or even in their area. Just giving them that opportunity has been incredible."
When Paulsen got brought in to be the coach for Justice College, he needed to fill an entire roster from scratch. He said the process was easy.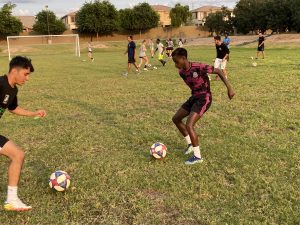 "You have to believe in what you're selling," Paulsen said. "From our first meeting to where we are at currently, I've believed in everything that we've wanted to step out and do. Filling the team has been easy because we believe in what we are selling."
The lone Brazilian-born player, Victor Santana, distinctly remembers when Paulsen and Justice College recruited him.
"It went really fast," Santana said. "The texting you know, I was like I'm Brazilian and I'm trying to play for a school. Since they had a new program, I really wanted to be in on it so I can help the new team. I want to help the team get on the top."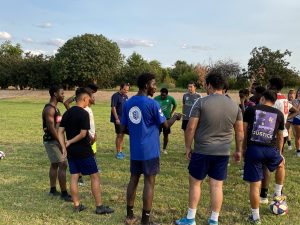 Most of the players for Justice College are imports from other countries, which creates a tight bond between the players.
"Our relationships are very mutual," Mambulu said. "Every relationship starts out with a rocky beginning. Once we put our faith and discipline into it, things are going the way we never thought they would. I'm very happy to have these amazing teammates because they want to succeed and work hard."
Santana is one of the best English speakers on the team, so he helps his teammates through drills and during games with communication. He can also speak Portuguese and Spanish to his other teammates if necessary.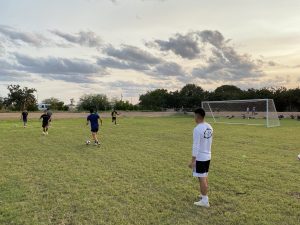 The language barrier is a big hurdle for this new team. However, they aren't letting it get in their way.
"The game of football is so universal," Paulsen said. "We use hand language when we demo things to overcome those obstacles."
Despite starting this year, Justice College is already in a league competing against other teams in Arizona and even California. While they aren't ready to compete with big colleges, Justice College is competing against the club teams of ASU, NAU, GCU, and UArizona, while also playing other small private colleges.
The Lions are 2-3-2 in their first seven matches playing against teams that have practiced and played together for much longer than Justice College.
"We were able to get into a league in less than two months of starting a program," Paulsen said. "We've also got kids who didn't think it was possible to get into a classroom at college into classes."
Getting these players whose native language is not English is another obstacle for justice College.
"We're close to full accreditation through TRACS, which is the organization that a lot of the colleges throughout the United States use as their accrediting body," Yelton said. "Within two years, we'll have full accreditation. We literally had our first student accepted and enrolled for this semester about 90 days ago. Now we have close to 70 students."
Justice College currently offers a business major, a biblical studies major, and a social justice major. Yelton is encouraged by what he is seeing from the soccer players and other students in their first semester.
"They're very strong students," Yelton said. "For a lot of them, English is not their first language. I've been super impressed, and I've been a professor at other universities. They're great students that have great attitudes and are very respectful. They're very eager to learn and take care of themselves."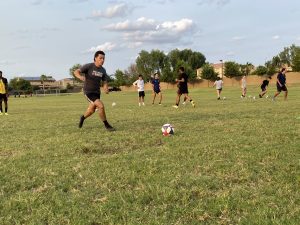 The students are not faking their classroom attitudes, as Yelton's sentiments are shared by Mambulu and Santana.
"Learning about business is great," Mambulu said. "It's teaching us life values and what we need to know to live in the world. The world is a very tough place. It's also giving us the opportunity to be ourselves and to have friendships."
"For us, it's been good because at the same time, who wouldn't like to study and learn more," Santana said. "We go to church to learn more about God and like, beyond his presence. It's unexplainable, the feeling of God."
The plan for Justice College is to keep growing. Plans are in place for a women's soccer team to start soon, along with a men's and women's basketball team. The men's soccer team is just the beginning.
"I think what we are building here is special," Paulsen said. "In five or ten years, I think this thing is going to be massive, and I think we can build something that can compete at a national level."