Story by Dominic Stearn
Justice College in Gilbert is providing an opportunity for international students to get an education and also extend their playing careers. In its first year, Justice College fielded a soccer team that is playing against other clubs and schools around Arizona.
However, before Justice College could get any games going, the school needed to get players. They bought into the school and coach Joe Paulsen's vision.
"You have to believe in what you're selling," Paulsen said. "From our first meeting to where we are at currently, I've believed in everything that we've wanted to step out and do."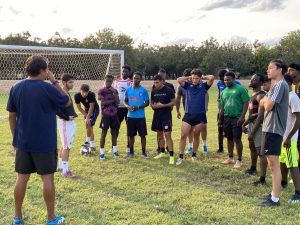 Some of the players can remember the exact moment that Paulsen recruited them to Justice College.
"I found out through my coach in El Paso," midfielder Yahir Alcantar said. "He told me that Justice College was recruiting players, so I called Coach Joe and he told me all about it."
"It was like a dream come true because at that point I didn't really have any other options," striker Tobi Yesufu said. "When I saw the message from coach Joe, I was like 'Wow, God is really good.'"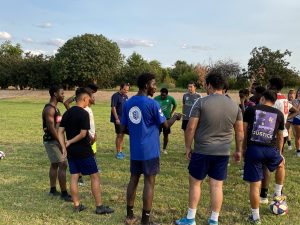 However, not all players were recruited by Paulsen. The soccer community amongst international students is tightly knit. Once some players were recruited to Justice College, word got around about the school's existence.
"I remember I first got an invitation from Deliverance [Mambulu] because I knew him from playing previously," Alenge Atembo said. "He sent me contact for coach Joe and he asked me if I wanted to play for Justice College."
Recruiting for any sport is difficult, but recruiting to a brand new college presents other challenges that other coaches and schools did not go through to get their teams for this year. However, the concern of a new school did not concern any players.
"It was a no-brainer," Yesufu said. "When I saw this, I saw it as an opportunity. I wasn't looking at the bad side of it, I was looking at the good. I focused on what we can do with college and what we can do with soccer. God gave me a chance and I have to make the best of it."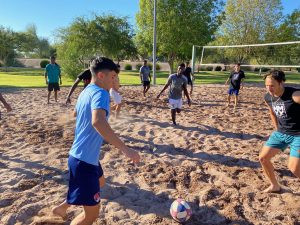 There were no regrets before, and players expressed that their expectations for Justice College are being met.
"I had no doubt about it at any point," Alcantar said. "So far it's been so good. Everything is running smoothly."
The first season for Justice College soccer is coming to a close with playoffs on the horizon. Paulsen is hoping to get the program into another league this spring to keep the players fresh and continue to build Justice College soccer.