On Friday nights in the fall, Holbrook, Arizona's downtown turns into a ghost town.
A city of 5,500 located on the edge of the Navajo Nation, Holbrook's high school sports teams are its heartbeat. Its residents are undyingly loyal to their beloved Roadrunners, and their adulation is plainly visible on game nights, when they pack Roadrunner Stadium to the brim.
This season, even more so than normal, the excitement brought on by the football season has permeated throughout Holbrook and the communities that surround it. The Roadrunners are on pace to have their best season in over 20 years, and the team's penchant for high-scoring games has made it a big-ticket attraction for everyone in the area.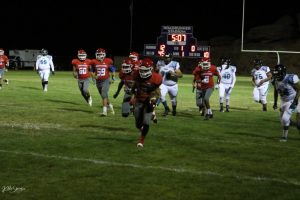 "It's been a couple decades since we had pretty good success in our football program," Athletic Director Greg Perkins said. "The community has really gotten behind this group of kids, especially since last year was kind of a dark hole with COVID and everything.
After posting two winless records in Chris Starkey's first two seasons as head coach, the Roadrunners have experienced a complete turnaround this fall. The team's 5-1 start is their best since 1979, and it finds itself in position to host a playoff game for the first time since its golden age in the 1990s.
As a result, the team has enjoyed a considerable amount of support, even at road games in hard-to-reach locations. As many as 120 Holbrook faithful made the two-hour journey to Whiteriver to watch the Roadrunners notch a 62-24 blowout win against a well-equipped Alchesay team, and Starkey anticipates that even more will show up for their potentially region-clinching game at St. Johns on Oct. 22.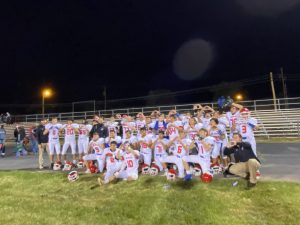 "I would say that 70 to 80% of the surrounding community attends our home games," Starkey said. "Our homecoming game was huge, our Winslow game was huge, [Oct. 9] is our senior night so I would expect that to be huge. We're already working on getting an activity bus and some transportation options available for a couple of weeks down the road when we travel to St. Johns. It's been very refreshing to have that kind of excitement around our football program."
Although the Roadrunners' impressive record and entertaining style of play have almost certainly played a role in driving up their attendance figures, the community's outpouring of support stems from more than the desire to see a winning team. 70% of Holbrook's student body lives on the Navajo Nation, which was devastated by COVID-19, and the Roadrunners' sucess has provided much-needed relief to students who lost loved ones or suffered financial hardships because of the pandemic.
"The reservation was hit extremely hard by COVID," Perkins said. "It is a little bit of a cautious return to normalcy, so that impact has been really important for our school community and our sports community. It is kind of a nice outlet for people who have been affected, and we have a lot of them, through COVID and family deaths and things like that."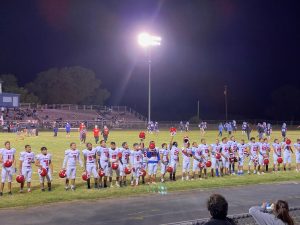 Members of the community have been eager to thank the team for its role in helping them heal from their pandemic-inflicted wounds, and they have expressed their gratitude in ways other than showing up for games. Starkey and his players are frequently recognized in public, sometimes even outside of town.
"Everywhere you go, you're running into people [who have a connection to the program]," he said. "It happens to me daily, it happens to my players daily. A couple of weeks ago, we had the Navajo County Fair, and it was just cool to see people coming up to them and congratulating them and shaking their hands and hearing them tell stories about when they played in high school. That's small-town America. That's what I enjoy most about small-town football."
Holbrook still has four games remaining on its regular season schedule, and should it win all four of them, the celebrity-like status that Starkey and his team have built up will reach an entirely new level. If the Roadrunners are able to host a postseason game, the near-capacity crowds that have flocked to Roadrunner Stadium may grow even larger, and the experience could lay the foundation for more successful seasons in the future."
"It would be something that [the fans] haven't experienced in a lot of years," Starkey said. "There's a lot of things that are happening that haven't happened in a long time and a home playoff game or a playoff game in general would be another one of those things that would cause a lot of excitement."